351 Entities in The Seventh Edition Of The Entrepreneurship Ecosystem Map In Egypt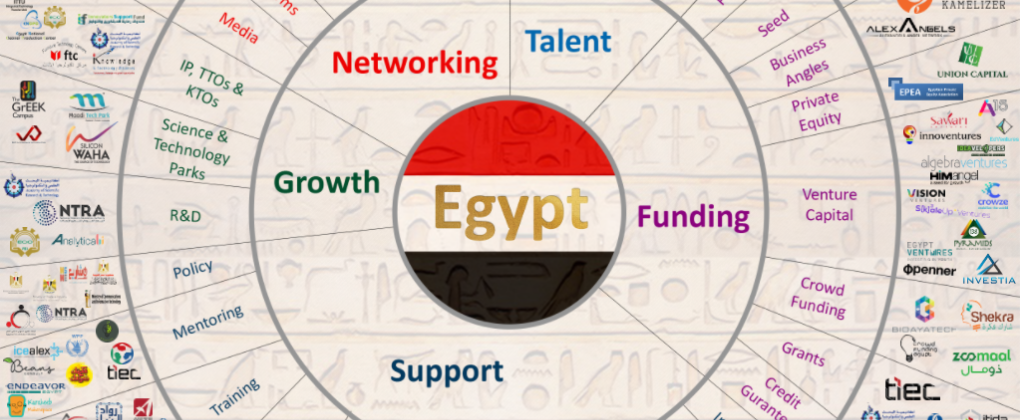 Dr. Nabil Shalbi, entrepreneur and head of the Arab Investor House, launched the seventh edition of the ICOSYSTEM map in Egypt, via eeei.arenho.com.
In a statement by Dr. Nabil Shalbi, published in a recent press release: The map displays supporters in one page through five main pillars.
The first is the sponsorship of talented people and start-ups, which includes 59 support channels and shows those who teach entrepreneurship and develop the creative abilities of young people, as well as those who change the mind and culture from clinging to the job to self-employment.
 
The second pillar is financing, which includes 40 financing channels, through eight different mechanisms, including pre-primary financing, seed financing, angel financing, bold capital, private equity, crowdfunding platforms, non-refundable grants and loan risk assurance companies.
 
The third pillar is non-financing services, comprising 168 information, legal, accounting and marketing support channels, employment and technical support, e-commerce projects, the list of accelerators and incubators, supporting entities for women's enterprises, stakeholders and private capabilities, as well as non-governmental organizations, civil society working in this area, training and guidance providers, ministries and policy makers.
 
With its fourth major pillar, the map presents the growth phase, which includes 18 players, assisting enterprises in research and development, protection of intellectual property, patenting, transfer of technology and knowledge, as well as science and technology parks and smart villages.
 
Finally, the fifth pillar revolved around networking, and included 66 support channels for platforms useful to business leaders, and those holding conferences, events and competitions, or hosting entrepreneurs and providing them with common working spaces, even useful articles, magazines and space programs.
The previous video explains how to use the map and how you can read it and identify the information it contains. It should be noted that the International Council for Small Enterprises, founded in 1955 and based in the United States of America, awarded Dr. Nabil Shalby the Global Award "The most creative idea" because of this map and asked its members in more than 90 countries to make a similar map for each country and follow the Egyptian model.
Returning to the first release in November 2017, which Dr. Shalby premiered at the Egypt Entrepreneurship Summit in Hurghada, it included only 100 support channels, compared to 351 support channels in the last seventh edition launched today, covering all the information required for entrepreneurs and for start-ups and SMEs on a single page, to enable them to implement and develop their projects.
Shalby reported that the map is updated annually, with 67 new support channels added, 29 support channels deleted, 37 support channels adjusted from the previous release, and confirmed that the map is interactive, with each Lugo's "Click" linked to who it represents so that the entrepreneur recognizes each channel's requirements, procedures and contact information.
He also stressed that the map was not only useful to business leaders and to start-ups and small companies, but also concerned decision makers, policymakers, programs and donors to identify service-saturated areas and those that needed more with a quick look at the map.
Submit Your News Now
Send Your Feedback