You are here
Get Inspired
Pottery Wheel-Chair
Pottery Wheel-Chair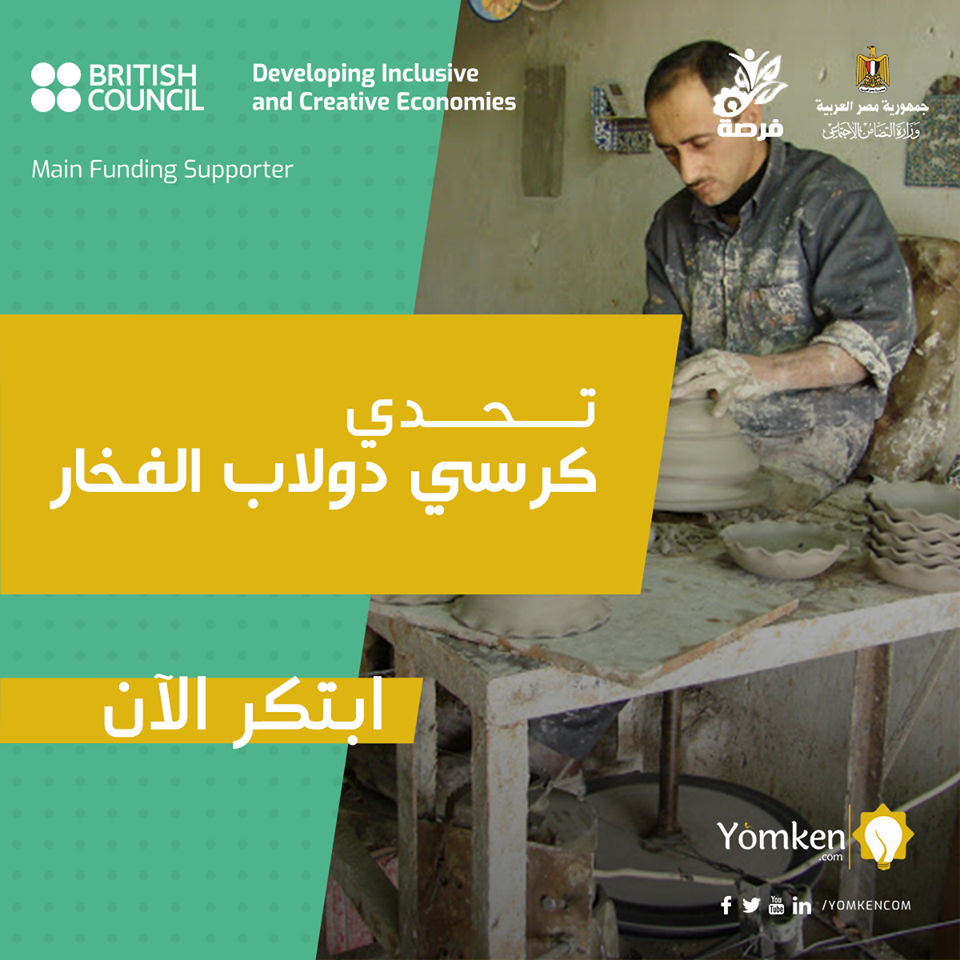 Problem
Can you design a modern pottery wheel that chair users can operate?
A call for mechanical and mechatronic engineers, professionals and entrepreneurs to find innovative designs to enable paraplegic persons (Wheelchair users) to use their skills and artfulness to create pottery artifacts for a chance to win 20,000 EGP provided by the British Council (Developing Inclusive and Creative Economy Program) to implement the solution, in collaboration with the Ministry of Social Solidarity.
This challenge aims to the creation of significant economic opportunities for people with disabilities in addition to supporting efforts to preserve this ancient craft from extinction. Please read the following for more details!
Background
A potter's wheel is a machine used in the shaping process of ceramic ware and pottery. This machine does not only requires the use of legs but it also needs perfect hand-leg coordination which represents a challenge for people with paraplegia (Wheelchair users) as the wheel movement mainly depends on the potter's legs. This dependence holds back many creative persons with paraplegia from using the wheel to express their art and create their artistic masterpieces, while wheelchair users have an extraordinary ability to maintain seating position for a long time, which enables them to create complex shapes and become more productive than non-wheelchair users.
Sendan Academy trains the visually impaired to weave baskets and to bead. People with hearing impairments are taught to weave carpets and rugs and make leather goods and they are looking forward to engaging wheelchair users in the creative industries building on the success of solving this challenge.
Requirements and Constraints
To design and manufacture an innovative pottery wheel that does not need the use of legs to operate to ease its use by wheelchair users. This machine should mitigate the production process to suit a wheelchair user and provide more convenient working conditions, increasing the wheelchair user's income, and sustaining this ancient craft. The submitted design should fulfill the following criteria:
Eliminate the need for using legs during the production process

Reducing the physical effort and stress

Can be easily transported using a manual cart

Utilizes locally-manufactured and/or locally-available components

Low maintenance

Safe to operate
Expected Deliverables
The solution should meet the aforementioned criteria

The solution should be provided as a prototype design that serves as a proof of concept

The solution should include a clear plan of action including implementation stages, timeline, required tools/materials, estimated budget, and technical support required (if applicable).

Preference will be given to machines manufactured based on locally available components.

Machine functions and efficiency will be tested by the solution seeker before final approval.

The innovator/solver is committed to providing technical assistance to deal with any problems that may occur within the first 3 months after the delivery of the machine.

The proposed solution should include a user manual, instructions and a training plan for employees to use the machine
Reward
The winner will receive a reward of 20,000 EGP provided by the British Council - Developing Inclusive and Creative Economy program to implement the solution, in collaboration with the Ministry of Social Solidarity.
The reward will be given in installments, in accordance with milestones set by the innovator(s) according to their plan of action
Target Business Relationship
Manufacturing Agreement
Deadline
Monday 25 Nov 2019
Owner
Submit Your Challenge Now
Send Your Feedback
EgyptInnovate site is not responsible for the content of the comments

View Egypt Innovation Map