ESHTEKI - How it all started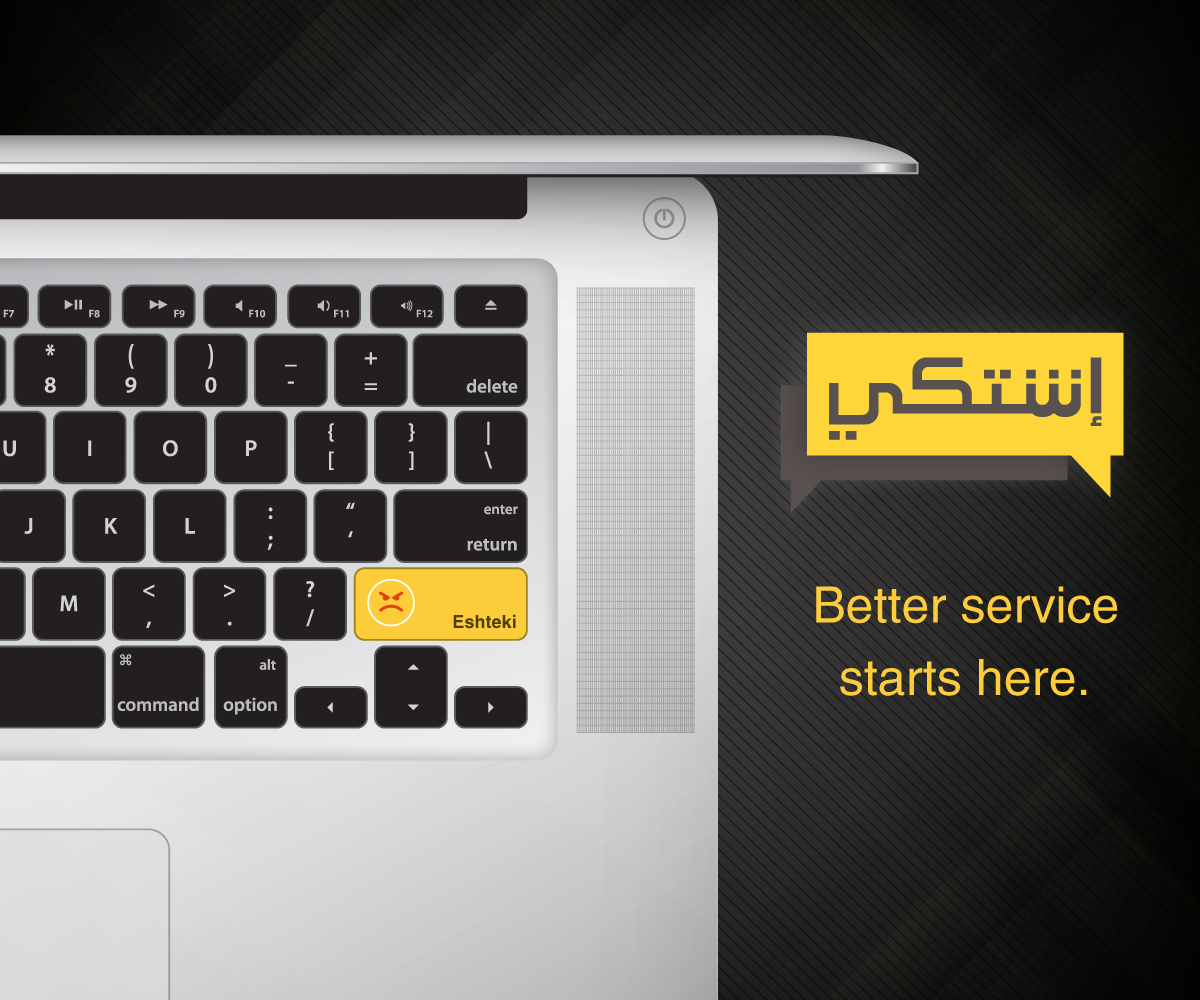 Like the majority of Internet users in Egypt, my connection was lost suddenly while doing important tasks online. I tried to reach for customer service, and even after long queues and pointless systematic steps, I never managed to get my connection back.
I wanted to escalate, but I knew, however, that I had nothing more to do at this point. I was so angry, and that what it! This was the start of "Eshteki", when Yasin Mohab, one of the co-founders of Eshtki, faced the customer service pain himself. He then started to work on the idea with Mostafa Othman and Mohamed Kamal as Eshtki's co-founding team to create the first complaints network in the middle east.
What's Eshteki?
Eshteki is a complaints management platform where angry consumers share their experiences and get linked instantly to service providers to handle their cases. We are aiming to standardize the complaints management process, which will eventually lead to the enhancement/amelioration of services level in Egypt, and the MENA region.
How it works
From one side, consumers/users can publish their complaints through the website, and Eshteki validates them and sends them to companies right away. As we believe in transparency, we provide users with tools to track their complaints and get feedback from companies.
From the other side, companies receive the detailed validated complaints, along with, building analysis and reports showing categories in which users are complaining.
Things you go through founding a company
When starting the platform, we had to face many challenges, and the biggest one was: How to convince people to share their problems and complaints? How to make them believe that their complaints are being taken seriously?
For this, it was essential to spread awareness about our service/platform and prove to users that their complaints and feedback will help convey/deliver their expectations/needs to businesses.
Our next challenge was convincing business provides to cooperate with Eshteki. As reported by Zen desk, 90% of customers in the US said that buying decisions were influenced by negative online reviews." For this, our argument was that a complaint not handled is a missed opportunity, which is very likely to cost many other customers in the futures.
That's exactly why, in Eshteki, we help businesses track and solve complaints and turn angry customers into loyal ones!
Set and manage users' expectations
Our users satisfaction being our top priority, we do our best to be up to their expectations and adapt to their needs. However, our role as "Intermediaries", between those who file complaints and businesses addresses, does not leave us with much to do when those businesses are not very cooperative/responsive.
To tackle to this issue, we are now working on a "Customer Service Quality Index", which will rate companies and compare them to each other. This index will not only make companies aim at getting a higher index but will also encourage users to file complaints, knowing that even if the company does not respond, their index will go down.
Change is the only constant in life, really?
Since we started Eshteki, everything changed: from the website code to design, roles and responsibilities of the team, and even the way we follow up with customers. However, our mission is the one thing that will always remain the same as presented in our slogan: "Better service starts here".
That's why, we keep working on developing Eshteki to provide businesses with tools to manage, and solve complaints, and further improve the quality of their services through the feedback they get from customers, whether on the platform or on other social media.
Eshteki in numbers
Eshteki was first launched in the first quarter of 2013 with the focus on the website and the facebook page. The aim was to have a decent digital exposure and to gain the trust of the customers and businesses. Now, Eshteki has more than 16 thousand user publishing and sharing their complaints and stories. Eshteki managed to work with different businesses to help them solve complaints including; LinkDsl, Etisalat, Vodafone, Edfa3ly, Jumia, Telecom Egypt, Egypt air, Samsung and more. Some of them already use Eshteki's portal for businesses to better follow up and manage complaints. Eshteki also managed to solve complaints outside of Egypt with companies like Etisalat UAE, Ebay, and Saudi Arabian Airlines.
Eshteki's expected future plans
Although the existing Eshteki platform is operating effectively, this is only the beginning! We still have a lot to offer and we will keep working on it, to achieve our aim of standardizing the complaints management process.
On one hand, we are working on new features to add more value and help complainers understand their rights, better post and track their complaints, and also, compare between different service providers through Customer Service Quality Index, explained earlier.
On the other hand, we are working in parallel on more tools to help business providers communicate better with customers for a more efficient decision-making process. Away from the technical side, our next step is to build a network of users and another one of partners from businesses, NGOs and government entities, concerned with customer service track
That's what we learned so far
"Patience is a virtue", a wise man once said! We believe this is a key factor to success in the startup world. It's not a race to success; rather a journey, where you may fall many times, and still bounce back even stronger. You just need to believe in the value you're providing to the world to overcome any obstacles; whether they were finance related, or resource related, etc.
Submit Your Article Now
Send Your Feedback
EgyptInnovate site is not responsible for the content of the comments

View Egypt Innovation Map