Career 180: A Full - Fledged Career Advising Platform That Qualifies Youth for The Job Market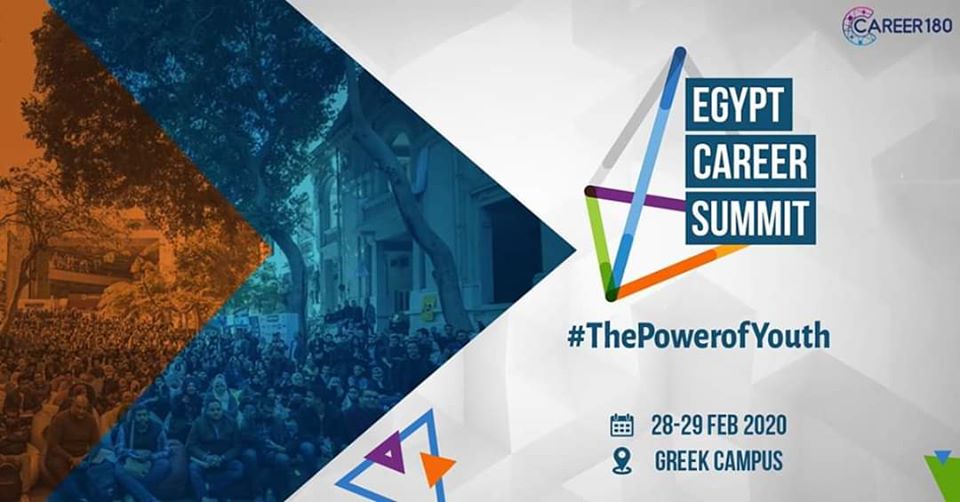 Career 180 started with the simple goal of solving the pain of under and fresh graduates who don't know what will happen after graduation, and it turned into a full-fledged career advising platform; after the team joined Injaz's incubation program and learned the principles of entrepreneurship.
Shrouk Alaa El-Din and Mohamed Akmal are young entrepreneurs who have diverse expertise; founded Career 180 aiming to help youth find their own path.
But how? The startup offers online and offline services that suit all the targeted audiences and increase in the number of successful paths.
The Story behind Career 180
"We started career 180 back in December 2016, aiming to prepare under and fresh graduates and qualify them to enter the job market," Said Shrouk Alaa El-Din, a co-founder of Career 180.
When the founders started Career 180, they didn't think of it as a "startup" or something that they can actually gain profit from; in fact it was the other way around.
"We were trying to fill the market gap and solve a real problem that we and our friends and the people around us were facing; we weren't focusing on becoming an entity, we were focusing more on solving the real pain that people have," Alaa El-Din added.
"Back at the time we started, 80% of fresh graduates - around 4 or 5 million – did not either know how to decide their career path or from where to start or how to get qualified in order to fit the market need…" she continued.
So to solve that pain, the founders did not only work on gathering experts from all fields and industries to share their success stories and experiences with the youth and lead them to the path of success. They also came up with several services each and every one of them help the youth in one way or another.
Alaa El-Din described the diverse services that Career 180 offers and how each one of them help younger generations in their career path.
The first service is the "Talent program" which is a monthly theoretical and practical program that strengthens its participants in a specific talent. "Career advising sessions and meetups" is another service where they gather top experts in diverse career with youth in a one-day event.
The third service and considered the biggest in Egypt; is "Egypt Career Summit" – the biggest career summit in Egypt- where they gather over 200 experts in an interactive event full of talks, panel discussions, mentorships, and 80+ workshops.
Career 180 offers "one to one online mentorship" where career advising seekers book an online session with an expert; "delivering videos" where users watch career advising videos help them through their dream career. Lastly, Career forum where platform users either ask or answer all the questions based on their experience.
What are the Challenges that the Startup had during its Journey?
"As any other startup we faced two main challenges; the first one was finding a qualified team, and mainly a business team who can make deals with national and multinational companies and startups in order to have a sustainable and successful business that fills the market needs," Alaa El-Din said
The second challenge was finding an IT member who can commit to the business; during that time the mindset was heading towards big companies so qualified IT members did not easily commit to the startup.
"So, to solve this problem we decided to have a CTO (Chief Technology Officer) who can join the team with a share or percentage in the startup," added Alaa El-Din
What's Your Biggest Achievement?
One of Career 180 biggest achievements was being able to make a real change in a girl's path who came from Alexandria specially in order to attend one of Career 180's talent programs. Although it was not easy, the girl was able to successfully get an internship followed by a job offer and now this girl has her own career path followed by a successful independent life, Alaa El-Din narrates.
What About Funds' Attraction?
When the team was incubated in Injaz they were shortlisted and got to join other startups around the region in INJAZ Al-Arab's 11th Young Arab Entrepreneurs Annual Competition and won "Best Social Impact in the Middle East" when they first started.  They also won "Best Event Award" From GEN Egypt in 2018.
Recently Career 180 has raised $100,000 as seed funding from EdVentures, the venture capital (VC) arm of Egypt's Nahdet Misr Publishing Group. The startup will use this fund to support its expansion plans, develop its online platform as well as expand its career workshops and events across Egypt.
What Would You Like to Say to Aspiring Entrepreneurs Who Wish to Start?
"The only thing I can say is, don't start unless one there is a real validated market need, also he/she has an experience and has a qualified team who can solve this problem," said Alaa El-Din
"Secondly, don't aim for investment when you first start because early investments eat up from the startups share. Also seeking investments in a later stage gives the owner/s an opportunity to think of a win – win situation business model that suits both the company and the investors." Alaa El-Din concluded.
Nominate Yourself
Send Your Feedback