Cairo's Culture of Entrepreneurship (Part 1)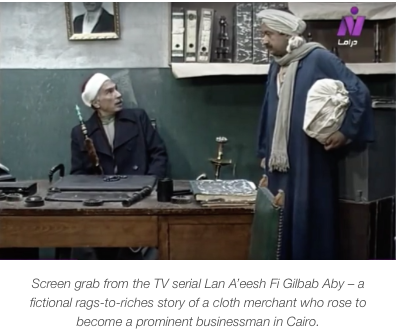 This article is part of the #urbaneconomies series originally published on progrss and commissioned by district coworking space.
In the third installment of our #urbaneconomies series, we look at the role of culture and supports in growing tech and non-tech entrepreneurship in Cairo, using Daniel Isenberg's Domains of the Entrepreneurship Ecosystem as a guide.
The 1996 hit Ramadan television serial Lan A'eesh Fi Gilbab Aby (I Will Not Live in My Father's Robes) is the rags-to-riches story of Abdel Ghaffour El Bora'i – a man of modest means who makes his way up in the world of Wekalet El Balah's cloth merchants to become a prominent Cairene businessman. But the reality is harsher for entrepreneurs looking to make it in the Egyptian capital. In fact, ever since entrepreneurship became a buzzword, there has been a deliberate effort to differentiate between entrepreneurs and businesspeople.
Founder of the entrepreneurship education organization Injaz Dina El Mofty contrasts the perception of today's entrepreneurs with the negative cultural perceptions of businessmen depicted in films and TV serials in the 2000s. She explains that the recurrent depiction of businessman-as-swindler has resulted in the absence of aspirational entrepreneurial stories from the public eye.
Hand-in-hand with the absence of entrepreneurs from the popular imagination comes to the difficulty in placing entrepreneurs socially. And although the Global Entrepreneurship Monitor (GEM) Report 2012 states that almost 85% of Egyptians believe that entrepreneurship is a desired career choice and 42% expressed their intentions to start a business in the future, one of the biggest challenges that entrepreneurs in Egypt report is not being socially understood.
Entrepreneur and investor Osman Ahmed Osman founded Akhbarak.net in 2003, which he sold a majority stake in Vodafone Egypt in 2012 before co-founding Parlio, which was acquired by Quora earlier this year. From his experience, Osman has found that entrepreneurial attitudes are generally not encouraged in Egypt. Even when hiring for his own startup in Cairo, he found that people tended to shy away from taking risks, partially because of their financial responsibilities, but also because of "what their wife or their wife's family would think."
Founding Member of the Middle East Council for Small Businesses and Entrepreneurship in Egypt and lecturer in Business Administration and Entrepreneurship at The British University in Egypt (BUE), Hala Hattab has witnessed first-hand the uncertainty that entrepreneurship inspires in students. Although BUE introduced its Entrepreneurship and Sustainability program in 2012, she explains that students are still reluctant to enroll because of preconceived notions that are passed on to them by their parents. "We're taking baby steps, but the impact is still limited. We still struggle under the influence of the larger culture, which is a real barrier," she says.
Stay tuned for part 2 of the third article in the #urbaneconomies series.
This article is brought to you by:  
Submit Your Article Now
Send Your Feedback
EgyptInnovate site is not responsible for the content of the comments

View Egypt Innovation Map