365 ideas in 8 minutes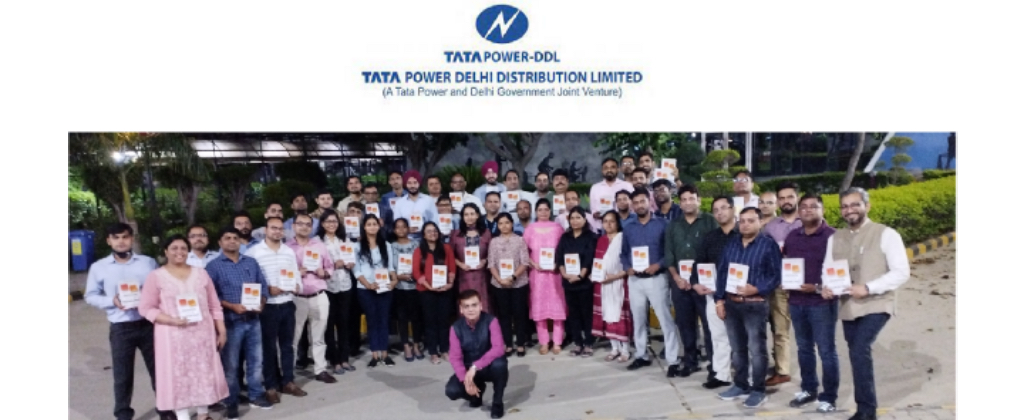 Last week, I was at Tata Power Delhi Distribution Limited (TPDDL), a joint venture between Tata Power and Delhi Government. The company provider power, non-stop, to almost 7 million in the NCR and adjacent areas.
It was the plush, government style Guest House of Tata Power where I was housed and their Learning Centre where we did two hands-on Design Thinking workshops. We had a cohort of Super-100, the top performers from across the organization. Each team of 50 enthusiasts was entrusted with solving a few wicked problems: 1) improving the efficiency of meter installation team by 100%, 2) lowering the drop rate in new connections by half, and 3) improving the accuracy of material requirements planning to 99%. All three are good candidates for design thinking, as they meet the conditions of: audacity of goal, ambiguity of context, and availability of time. The diversity of team was also ensured with calling in folks from across functions, tenure, and subject matter.
We had a little over 8 hours to achieve workable solutions for these three problems. So first thing first — we cut down on distractions. No laptops. No cell phones. The famous Delhi hospitality was cut down to two short tea breaks and one rushed lunch. After initial resistance, the folks abided as they saw the merit on being disciplined, after all both the problems and the participants were nominated by the CEO- Ganesh Srinivasan. That's where leadership commitment is the starting point of a successful endeavor on problem solving.
We quickly got on with the first stage of Design Thinking — Inspire, where we looked at the Design Brief, the short statement of purpose. Each team went about crafting a purpose that has a stretch in it, a built-in constraint, and yet keeping in vague enough to entertain multiple possibilities.
The next stage was — Empathize and Define. Here, each of the three teams went about exploring the problem realm by adopting multiple frameworks and models. They used the Future-Back Mindmap, Stakeholder Map and the Journey Map. Each model, in turn, helped teams delve deeper into the problem, without necessarily solving it, and thereby making it much more solvable. They had spent almost 50% of their time in this stage, before they zeroes down on a few core causes worth addressing.
The third stage — Ideate — was where we seek a high quantity of ideas to be then distilled into superior quality. They adopted the solo-brainstorming technique and the magic happened. 8 minutes of pin-drop silence resulted into 365 ideas across 50 participants. No discussions. No impressing upon other with your pet idea. No arguments. Just pure creativity.
Once you get so many ideas, you have the liberty to chose the real promising ones. They narrowed the spread to 10% of the ideas and then got into the stage of Prototype and Test. They took on the play dough and Lego blocks like the kids they were in the distant past and gave shape to their ideas, in three dimensions. This very act offered tremendous clarity to the ideas and developed conviction in the team. They demonstrated their ideas as a 3-minute elevator pitch.
Finally, the selected ideas are put through Scale, where tools like Business Models and Objectives and Key Results come in handy.
In summary, it's a fertile method of ideation, provided you spent a significant time investigating the problem which is worth solving.
The same arrangement was repeated to Day-2 also, with a similar audience size, and ever better results, 410 ideas in about 30 min.
Here're my key insights from the experience:
A lot can be achieved if you purposefully cut down on distractions. There was no power outage when people weren't allowed to use their phones. Neither anybody got fired either!
Spend 60% of your problem solving time on understanding the problem, from multiple perspectives. Adopt methods in the process.
Keep your progress visible and adopt visualization methods. Problems when made visible and personal get addressed.
Adopt solo-brainstorming. Get everyone to write down their own idea before opening up the discussion.
Keep it tight on time and resources. Remember, 365 ideas in 8 minutes!
To learn more about design thinking, read the book, Design Your Thinking.
Article Source: Here.
Submit Your Article Now
Send Your Feedback
EgyptInnovate site is not responsible for the content of the comments

View Egypt Innovation Map