Eksab: The First Sports Fantasy Platform For Egypt's Football Enthusiasts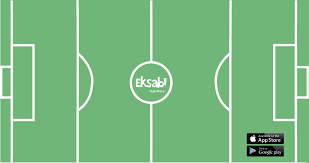 Egyptians love football. It's one of the most popular sports in Egypt and has a huge Egyptian fan base. With the egyptian startup ecosystem growing each day, one has been making headlines lately. Eksab is a Daily Fantasy Sports (DFS) platform that allows football fans to join competitions, predict real-world football matches and challenge their friends and win prizes through a mobile application.
It was founded in 2017. The platform currently has 80,000 users who have placed over 6.5 million predictions on the platform and have recently secured a six-figure investment from 500 startups.
EgyptInnovate's team interviewed Aly Mahmoud, the Co-founder and CEO of Eksab to know more about the startup, the challenges they faced and what plans they have for the future.
How did you come up with the idea?
During my college years in Canada and throughout my travels in the US, I witnessed the growth of fantasy sports and its impact on the sports ecosystem, specifically their ability to drive engagement from sports fans. 
After doing some research, I found out that there were over 1.2 billion football fans in the Middle-East and Africa, most of whom would be online by 2021- with no prominent DFS platform. There was a clear opportunity. I talked to 10 Fantasy Football users based in Egypt and asked if they'd use my app if I built it, they all agreed. That was a good enough reason to start.
How did you gather your team and what are their backgrounds?
My co-founder & CTO Ahmed Omran has over 8 years of software development experience having developed projects in Egypt and the U.S. I studied Economics at Dalhousie University in Canada and then I got a certificate of entrepreneurship from Harvard Business School Online. I was a marketing consultant for several firms in Egypt across a number of industries. 
What challenges did you face throughout the journey?
Our biggest challenge to-date has been finding a commercially-viable payment gateway that works well with our business model. The current fintech players don't enable gaming platforms to foster and have to rely on cash and that isn't very scalable.
What are your future plans?
We're going to be partnering with 5 of the top european football clubs, stay tuned!
What advise do you have for aspiring entrepreneurs?
Talk to your users (or potential users) every single day.
What are you expectations for the football-tech industry in Egypt?
I think you'll start to see football teams take a more tech-driven approach by partnering with football startups. Just like in the U.K. and Spain, teams will start attempting to capitalize on the massive revenue-generating opportunities that are available in the tech space. Players could also benefit by partnering with football startups through fan engagement tools like the ones Eksab will be rolling out later this year. 
What do you consider the startup's greatest achievement so far? 
We've built a platform that has processed over 6 million games, raised a seed investment, and made it to the top of the Google Play Store, using only a 2 person team.  We're very proud of how lean we've been able to keep our operations.
How did you attract investors and what advice would you give to startups about attracting investments?
My advice to startups looking to raise their first round is to develop persistence. Most people will say no. Try to find out why and then move on. Another important advice is to highlight your key numbers. Investors hear dozens of pitches every week, make sure you shine a light on your top metrics. Numbers are usually louder than words.
Nominate Yourself
Send Your Feedback