Chefaa: the App Saving You The Hassle of Looking for Medicine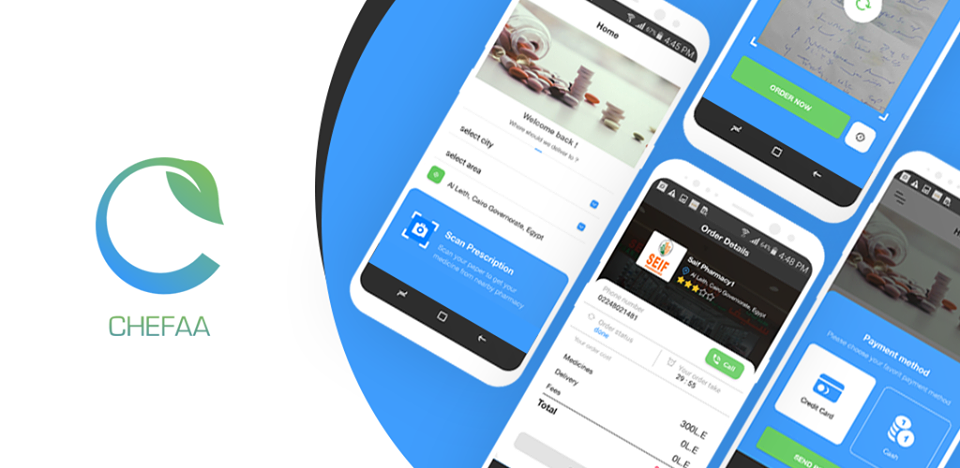 When Doaa Aref, a digital marketing Manager, got thyroid cancer three years ago, she had to go through a very rough journey with getting surgery and chemotherapy all by herself. Tracking what medicine to take every day was a difficult task. After her recovery, Aref conducted market research and learned that this is a prevalent problem and founded Chefaa, an application that allows patients to scan their prescription to order their medicine, and also give them daily reminders of dosage times.
EgyptInnovate's team met Aref in May last year in Flat6Labs' 11th demo day when Chefaa had just graduated the acceleration cycle. Today, Chefaa has been able to serve more than 21,000 users, and it expanded its services to create business solutions for insurance companies, schools and other institutions.
"Chefaa will save you the hassle of having to keep looking for unavailable medicine or think about medicine as something difficult," Aref told EgyptInnovate.
Impact
Patients are able to use Chefaa's services for free, so the startup takes a commission from pharmacies and a monthly subscription from medicine companies that access their data. Through database systems, they offer insights about the entire pharmaceutical market, such as locations of medicine availability and unavailability, places of consumption of certain products, and what the market share of some medicine companies is like.
"We managed to cover nine governorates in Egypt, we had more than 3 million pounds in sales, and the rate of users who reuse our service was 60%," Aref said.
 
Currently, Chefaa's target in 2019 is to serve 1 million patients.
Challenges
"We're trying to convince people of using digital medical services...they're not used to it. It's just like ride-hailing services at the beginning, people were used to traditional transportation but people felt like the application solves a problem," Aref said.
Aref added that the laws that organize the work of pharmacies in Egypt were set in 1955 and in 1960, which are not suitable for modern-day services, however, she noted that there's a positive direction in the country towards digitization.
Funding and Achievements
Chefaa received EGP 500,000 from Flat6Labs as a seed fund, and today Chefaa's team are investing their personal money into the project.
"We're now finalizing a seed round, so within a month or two we'll make new announcements," Aref continued.
Advice for Aspiring Entrepreneurs
"If entrepreneurs execute their idea and find ten others who do the same, go on. In Egypt, that there are 100 million people, so there are variations for service providers. Keep your target to satisfy your customer rather than beating competitors," Aref concluded
Nominate Yourself
Send Your Feedback