Meet the Only Contestant from North Africa that Joined the Anzisha Program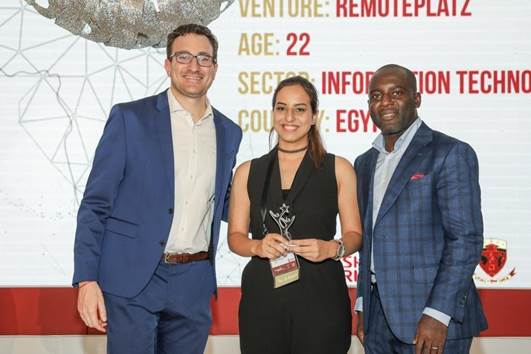 Raghda Medhat, the 22-year-old co-founder of Remoteplatz, is the only representative from North Africa that joined the annual Anzisha Prize, a partnership initiative between the African Leadership Academy and MasterCard Foundation. Remoteplatz is a tech startup that enables talented and motivated developers to work remotely with leading European high tech businesses in the German/Swiss market.
The Anzisha Program aims at increasing African job-creating entrepreneurs. This year, the program took place in South Africa at the African Leadership Academy from October 14th to October 25th, 2019. African entrepreneurs from the age of 15 to 22 can join the program.
The program included a Bootcamp that taught the young entrepreneurs topics such as business modeling and creating a pitch deck, and it allowed the 20 contestants to network with multiple investors.
The first, second and third place winners who presented the best pitch decks won $25,000, $15,000 and $12,500 respectively. While 17 of the contestants, including Remoteplaz, received a prize of $2,500 from the program.
The young woman encourages all Egyptian entrepreneurs to register for the prize next year. "Not only will they benefit from the Bootcamp and the cash prize, but they'll also get the chance to meet different investors from all around the world and network with bright, like-minded fellow entrepreneurs," said Medhat.
The program offers the participating startups diverse services such as consultation, investor matchmaking and opportunities to join other programs and competitions abroad.
Submit Your News Now
Send Your Feedback