TIEC Celebrates its Accelerator's Demo Day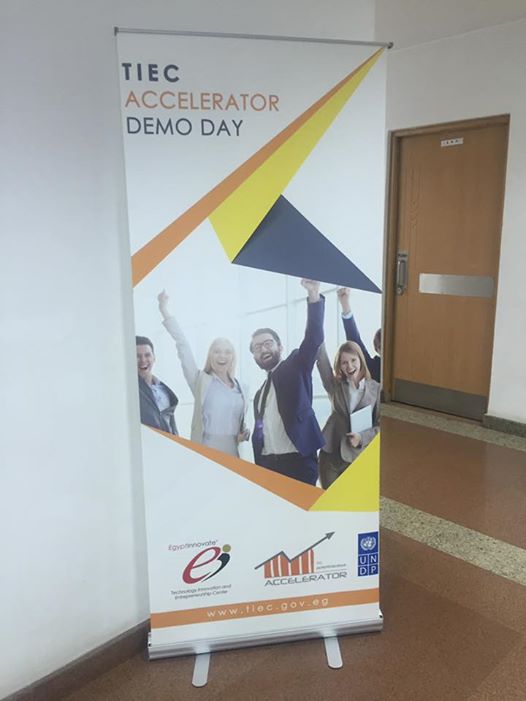 TIEC celebrated its 9th entrepreneurship accelerator round's demo day on Saturday, where fifteen different teams were pitching in front of four jury members representing Microsoft, AUC Venture Lab, DellEMC, and Flat6Labs.
The teams pitched their ideas, which represented solutions for different problems we daily face like: finishing governmental papers, waiting - especially in clinics, food leftovers, finding home appliances, child abduction, eating homemade food, home technician services, expired medicines, deaf and mute services, general complaints, and a lot more.
The three winning team were; Taqatak, free solar smartphone charging station which is 100% solar and eco-friendly. Drug Catcher, an online marketplace for medicines and pharmacies to solve the loss of 600 million EGP per year because of the expired medicines. IoTech, a smart system solution for child abduction through a sole put in children's shoes. TIEC announced that the three winners will be provided with three months of consultation in marketing, digital marketing, and finance.
Microsoft will provide the winning teams with technical support and will help them develop their software, while Flat6Labs and AUC Venture Lab are welcoming the teams to apply in their incubation and acceleration programs.
"The passion in your eyes while presenting your ideas was very obvious. I loved how everyone finished the pitch and covered all the points in only 5 minutes – thought it's impossible," said Ahmed Ossama, Innovation Program Manager at DellEMC.
"Becoming an entrepreneur is a really tough journey. This is not the end of the line, this is the beginning," said Ahmed el-Sherif, Flat6Labs Project Manager. 
Submit Your News Now
Send Your Feedback