Supported by ITIDA, ‪‪MAGNiTT 2020 Egypt Venture Investment Report Available for Free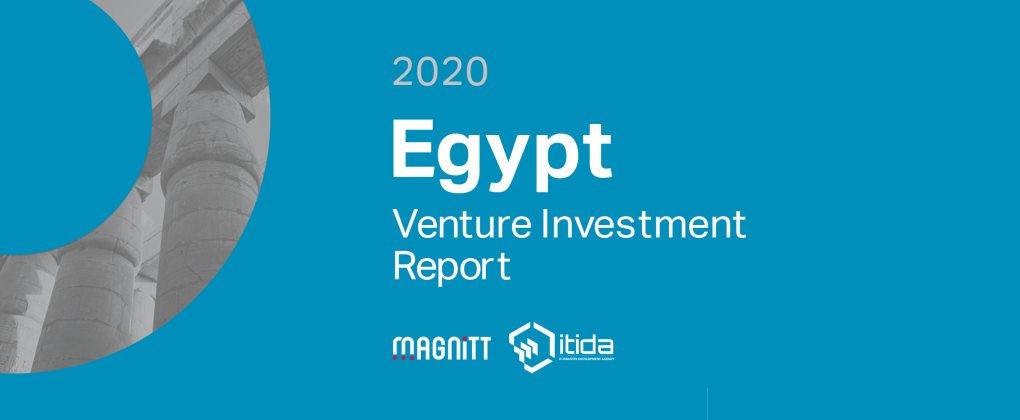 Egyptian startups have recorded an all-time high venture investment of $190 million through 114 deals in 2020 compared to $146 million in 2019.
The Egypt Venture Investment Report by ‪‪MAGNiTT and in collaboration with the IT Industry Development Agency (ITIDA), captures the growth of Egypt's venture capital ecosystem in 2020 and tracks its evolution over the past five years. This is complemented by a detailed industry analysis, investor ranking, MENA country comparison and a compilation of the largest deals.
In this report more information and analysis for venture investment transactions in Egypt during 2020, including:
Aggregation and analysis of all tech startup investments in Egypt
A list of the most active investors in Egypt, including venture capital (VC) investors, angel networks, and accelerator programs
Analysis of the top funding rounds in Egypt in all sectors presenting an increasing trend of digital adoption in E-commerce, Healthcare and Transport
Review of all Exits in Egypt including Mergers and Acquisitions in 2020
Egypt's venture investment ecosystem has stood out as one of MENA's most rapidly developing venture markets since 2015. Its cumulative annual growth rate (CAGR) over the past five years was recorded at 100%, more than thrice the average pace of growth across the entire MENA region (31% CAGR). This progressive rise in funding meant Egypt finished 2020 with an all-time high venture investment of $190M, which was largely driven by the funding rounds of three startups.
Active Investors
The number of investors in Egyptian startups more than doubled in three years, going from 31 active firms in 2017 to 69 in 2020. Flat6Labs, 500 Startups and Falak Startups accounted for the highest number of deals in 2020, while 64% of all active investors participated in only one deal.​
---
Get you copy of the full report here
---
Report's Key Findings:
2020 saw $190M invested in Egypt-based startups, a record amount of total funding, representing a growth by 30% in 2020 compared to 2019 and a Compound annual growth rate (CAGR) of 100% between 2015 and 2020.
International firms represented 32% of all investors supporting Egyptian startups in 2020
The UAE is the first by the number of deals in the MENA region, which accounted for 26% of total transactions, followed by Egypt (22%), and then Saudi Arabia (18%).

Every fifth funding transaction in MENA was closed by an Egyptian startup.
Digital adoption in E-commerce and Healthcare was positively impacted in 2020
E-commerce startup transactions increased by a 64% increase in transactions in 2020 compared to 2019, raising $18M, 127% more than 2019.
Healthcare registered a 1600% increase in capital deployed, amounting to $57M.
The top five deals in 2020 were credited to startups operating in E-commerce, Healthcare and Transport.
2020 saw more later stage deals, albeit with a smaller share in capital than 2019. Series A and Series B+ funding rounds accounted for 10% of all venture transactions in Egypt, a 5% increase from their deal share in 2019.
COVID-19 saw a slowdown in startups graduating from accelerator programs
The decline in VC deals in Egypt can be attributed to the fall in the number of accelerator programs. Accelerated deals were responsible for almost half (48%) of the total transactions in the country in 2019, dipping to only 20% in 2020.
Submit Your News Now
Send Your Feedback