Design the Future: Post-COVID Regional Virtual Hackathon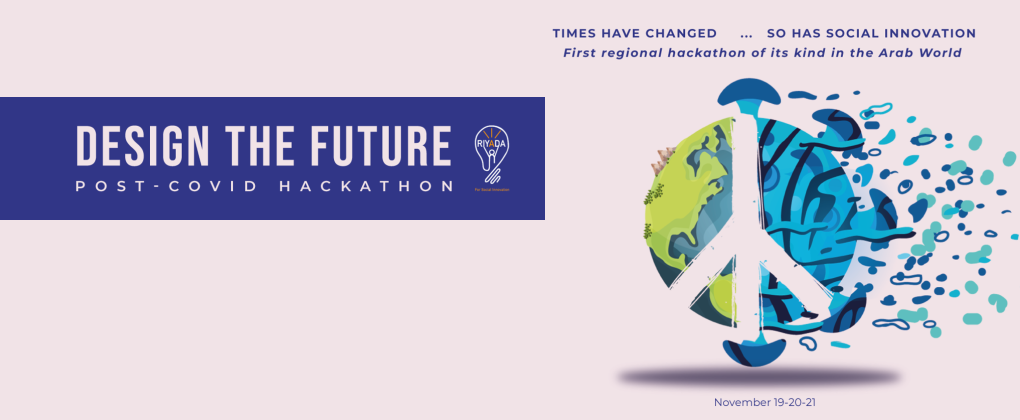 COVID-19 has further changed our world and brought about new challenges to an already-troubled region, namely the Arab World. However, many agree that the COVID pandemic has been a wake-up call and has presented new opportunities to design a better world than what we had before. This hackathon, the first regional endeavor of its kind to address this global challenge, provides a space for young change-makers to innovate and prepare for a post-COVID world through collaboration and reinventing a sustainable future.
Riyada for Social Innovation SAL in partnership with the UNDP Arab States Regional Bureau and Global Transformation Corps are proud to present "Design the Future: Post-COVID Hackathon" Virtual Regional Hackathon for social innovators and change-maker individuals aged 19-29 who can understand and speak English from Morocco, Tunisia, Algeria, Egypt, Lebanon, Jordan, Kingdom of Saudi Arabia, United Arab Emirates, Kuwait, and Qatar with the flexibility to accept applications from other Arab countries too.
The hackathon aims to bring capacity to emerging leaders in the Arab world and prompt them to come up with innovative solutions that address the Arab world's post-COVID needs with an emphasis on more humane, peaceful, and prosperous communities. Teams that will present the most innovative, feasible, impactful and sustainable solutions will be recognized as hackathon winners and will be granted access to a global network of experts who will help them advance their ideas.
You can apply as an individual or as a team. Each member in the team must submit a separate application form. As an individual, you will be teamed up with other individual applicants from diverse backgrounds, complementary skills, and similar interests. If you have any questions, Please send orgnizer an email 
Submit Your News Now
Send Your Feedback