You are here
REIMAGINE V.12 | The Metaverse | Crypto & Blockchain Virtual Conference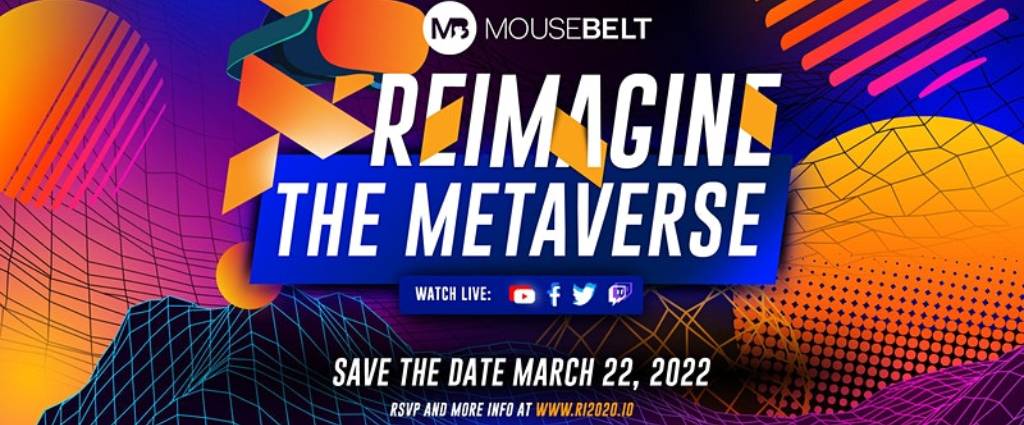 22
Mar 2022
To
24
Mar 2022
Event Organizer
MouseBelt Blockchain Accelerator
City
Event Details
In the latest edition of the REIMAGINE Crypto & Blockchain Virtual Conference we will go deep on the news and updates of the metaverse. Topics suchs as augmented reality, virtual reality, 3D holographic avatars, video and other means of imersion of new techonlogies. As the metaverse expands, it will offer an inside updated of the hyper-real alternative world that everything will coexist in.
What is REIMAGINE 2021?
REIMAGINE 2021 is a virtual blockchain conference and networking event designed to inspire you to create and implement the solutions needed to build a decentralized future. Our goal is to broaden education while strengthening ties between academic, industry and enterprise communities by providing a virtual forum that will serve as the standard for blockchain events going forward.
Never has there been a better test for the promise of blockchain than the current financial crisis. More and more people are realizing that cryptocurrency could serve as a safe haven and our community needs to unite to help them find alternatives. Let's reimagine what is possible! We can inspire everyone to choose decentralization, privacy, autonomy, ownership, and security as a mindset and philosophy.
In the past, the time and money needed to travel to conferences was a huge barrier for people interested in blockchain. Now that we're all on the same boat (or couch), there couldn't be a more perfect time to host the largest virtual blockchain conference EVER! Let's reimagine connection. We can educate on the fundamentals, benefits, and trends of blockchain technology and provide opportunities for networking, skill-building, and fundraising, all from the comfort of our homes!
We will be streaming on Facebook, YouTube and Twitch and starting Tuesday, March 22nd at 12:00PM PST. Check out the live stream links here:
Register Here.
Audience
Who should attend?
Executives/VP/Director Level
Professionals
Developers
Media
Students
Investors/VCs
Objectives
Get inspired by the future of blockchain innovation
Create solutions and implement change along with developers, academics, and students as you learn from some of the largest global enterprise companies and universities. Together we'll explore:
What solutions can blockchain / crypto provide in the new global economy?
What kind of future does blockchain make possible?
What are the current barriers to adoption?
Add To Your Calendar
Send Your Feedback
EgyptInnovate site is not responsible for the content of the comments

View Egypt Innovation Map