You are here
Get Inspired
The Improvement of Public Services Project (IPSP)
The Improvement of Public Services Project (IPSP)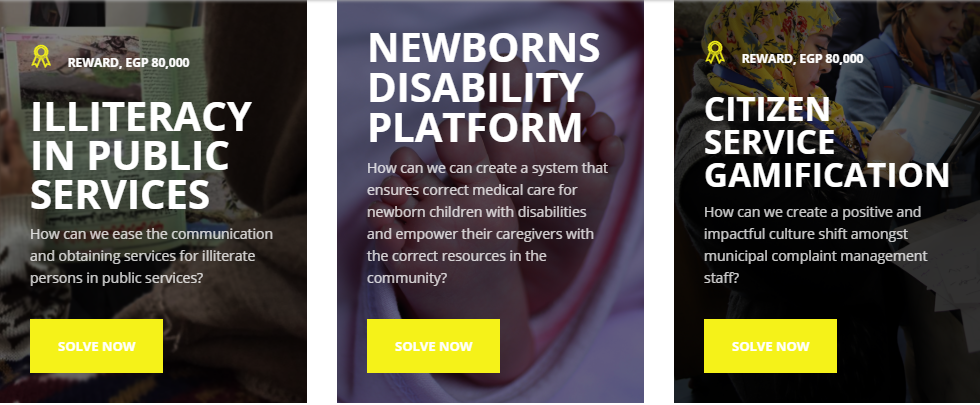 Problem
The Improvement of Public Services Project (IPSP) is one of the GIZ projects implemented in Egypt with the aim to improve the Egyptian government's efforts towards decentralization and reforming its public administration.
Our approach is to improve service delivery at the local level by strengthening sub-national administrative structures and launching or redeveloping Citizens' Service Centers (CSCs). IPSP's interventions in improving public services encounter several challenges/problems (often of systemic nature) that require innovative out-of-the-box solutions.
We have three ongoing challenges:
(1) Citizen Service Gamification: create an innovative game to improve the quality of services provided to citizens in municipal complaint management offices https://bit.ly/2ICAH4S
(2) Illiteracy in Public Services: Make public services more accessible and inclusive for the illiterates on a daily basis. Design an App. & Make an impact https://bit.ly/2YI1Wke

(3) Infants Disability Platform: Design and implement a digital platform to handle the documentation of disabled infants and assisting their parents https://bit.ly/2UxXxBb
Requirements and Constraints
Submit a complete application form by the deadline of April 30th 11:59 pm EST. This application should clearly demonstrate how the outlined criteria will be met.

For Citizen Service Gamification: Please also include a demo in the form of a video (max 5 mins) that explains the game mechanics and rules.
For Illiteracy in Public Services: Please also include a demonstration of the app architecture such as wire-frame or any similar diagramming method.

For Infants Disability Platform: Please also include a layout and sitemap to explain the user experience and journey through the platform.

Expected Deliverables
Check each challenge's link
Reward
A reward of 80,000 EGP (Inc taxes) provided by GIZ/IPSP to implement the solution with their collaboration. The reward will be given in installments, in accordance to milestones set by the innovator(s) according to their plan of action. Winners will also receive:
- Recognition and support from the IPSP/GIZ across their networks.
- The possibility of future collaboration with GIZ.
- Acknowledgement of the winner among GIZ partners.
Target Business Relationship
Technical cooperation
Deadline
Tuesday 30 Apr 2019
Owner
Submit Your Challenge Now
Send Your Feedback
EgyptInnovate site is not responsible for the content of the comments

View Egypt Innovation Map