You are here
Get Inspired
DigitalAG Challenge
DigitalAG Challenge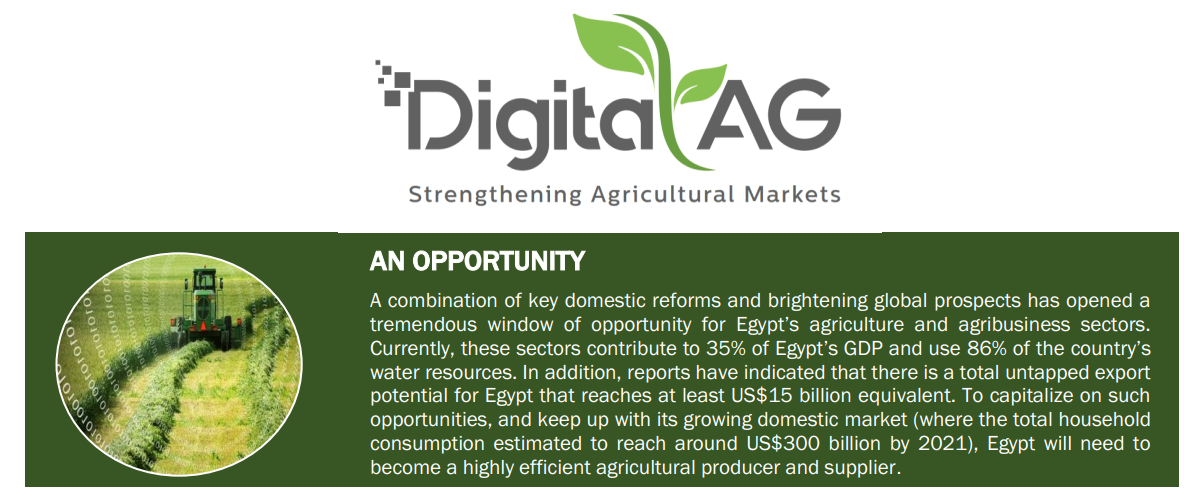 Problem
A combination of key domestic reforms and brightening global prospects has opened a tremendous window of opportunity for Egypt's agriculture and agribusiness sectors. Currently, these sectors contribute to 35% of Egypt's GDP and use 86% of the country's water resources. Additionally, reports have indicated that there is a total untapped export potential for Egypt that reaches at least US$15 billion equivalent. To capitalize on such opportunities, and keep up with its growing domestic market (where the total household consumption estimated to reach around US$300 billion by 2021), Egypt will need to become a highly efficient agricultural producer and supplier. Consequently, this will allow for it to make use of its favorable geographic location and its existing comparative advantages, paving its way to becoming an efficient agribusiness transformation hub.
Requirements and Constraints
The following three challenge tracks are included
Access to Market & Services. Focusing on value chain enhancement for example by addressing logistics, extension services or the high levels of food loss and waste.

Access to Finance. Focusing on overcoming the access to finance issues related to the sectors.

Resource Management. Focusing on the responsible water and energy usage.

Expected Deliverables
This competition aims to ensure the inclusion of youth and the private sector, and crowdsource innovative ICT solutions to raise the efficiency of agricultural markets, whilst tackling related issues such as logistics, food loss and waste, water resource management and environmental degradation.
Applicants should form teams (a minimum of 2 members). Individual submissions will not be accepted.
The team has the required technical capabilities and willingness to work on their idea until it reaches the implementation stage.
The solution uses mobile, broadband, digital and/or information technology, to strengthen agricultural markets in Egypt.
The solution focuses on at least one of the three tracks identified by this challenge and is tailored and applicable to the Egyptian context.

Reward
The rewards will be tailored to the needs of the winning solutions and will include incubation, capacity building, and training. Some of our partners will be offering seed funds of up to 90,000 EGP per solution! Submit your solutions on digitalag4egypt.com/
Target Business Relationship
Technical cooperation
Deadline
Sunday 1 Jul 2018
Owner
Submit Your Challenge Now
Send Your Feedback
EgyptInnovate site is not responsible for the content of the comments

View Egypt Innovation Map