MAGNiTT AND 500 STARTUPS JOINTLY LAUNCH FIRST 'STATE OF MENA STARTUPS 2019' REPORT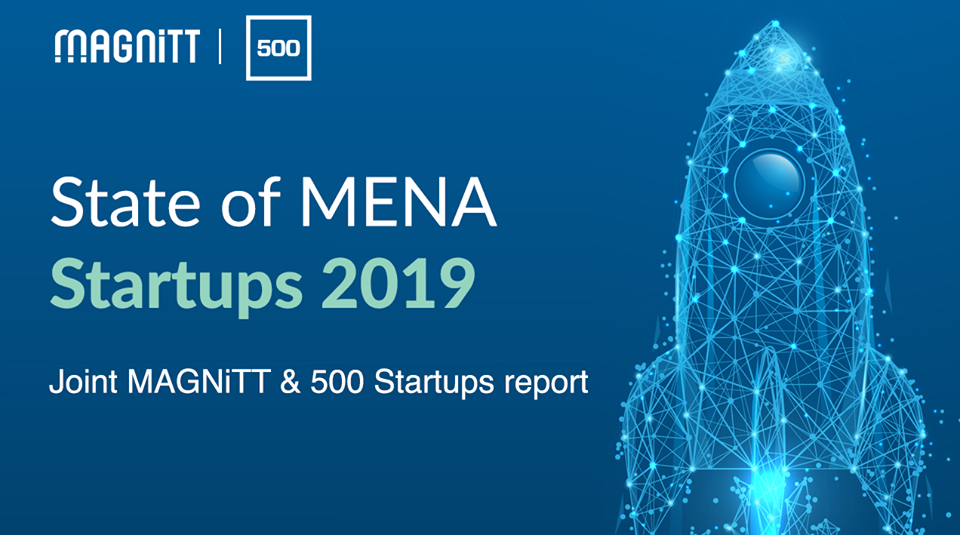 Survey findings reveal insights on trends in fundraising exercise, exit opportunities, hiring, and growth optimization as startups delve into a rapidly growing and robust MENA ecosystem
The key highlights of the report include:
● 81% of founders across MENA look to optimize the growth of their business
● Access to a well-connected investor's network is key to find a lead investor
● 71% of the startups expect to hire up to 10 new employees as they expand operations
● 62% of founders prefer a mix of international and regional investors for future rounds
MAGNiTT, MENA's leading startup data platform, in partnership with 500 Startups, one of the most active venture capital firms across the MENA region, have launched their first joint report "State of MENA Startups 2019" today.
The in-depth report includes results of a survey of over 100 high-growth tech startup founders based in the MENA region that have received at least one round of investment from 500 Startups. The aim of the survey was to identify trends among pre-seed, seed stage tech-enabled startups in fundraising and to highlight the challenges of establishing and operating a startup. Inspired by the well-known State of Startups by First Round Capital, the report highlights key trends on the operations of founders in the MENA region.
Commenting on the announcement, Hasan Haider, Managing Partner at 500 Startups MENA, said: "We are delighted to launch the first State of MENA Startups report in collaboration with MAGNiTT.  Having invested in more than 100 startups in the last two years in the MENA region is a testament of our commitment to our mission to discover and back the world's most talented entrepreneurs, help them create successful companies at scale, and build thriving global ecosystems. As the most active venture capital firm in the MENA region by number of investments, we are proud to position ourselves to provide granular insights into the perspective of founders in the region."
Philip Bahoshy, founder of MAGNiTT, MENA's leading startup data platform, highlights: "the importance of data transparency and insights driven by data to support key decision-makers at a government level to see the continued growth of the ecosystem". This was key for the basis of this first report, which will look to be expanded to a wider audience over time. 
The report provides data-driven insights into trends in key areas, which includes fundraising, exits, hiring talent, growth strategies, as well as other operational decisions and strategies.
1. Fundraising: Of the 100+ startups surveyed, 86% had recently raised a pre-seed or seed round in the region. It took them an average of seven months to close the first round. Interestingly, 47% of the 500 Falcons' portfolio highlighted that it will be "moderately challenging to raise funds," while 67% said that they had to approach up to 10 investors to raise their most recent funding. In this regard, when looking for a lead investor, founders indicated that it was absolutely necessary to have a well-connected investor network.
2. Exits: With tech-enabled companies in the region maturing rapidly and attracting global and regional attention from would-be acquirers, the survey highlights that 57% of founders expected to exit their startup in 5 years, with 59% of them "certain" they will be creating a company of $100M in exit value. 500 Startups to-date has witnessed exits to US-based companies, Wrappup to Voicera and Harmonic to Match Group.
3.  Hiring: When asked what the top three things that kept them up at night, 62% of the founders stated that hiring the right talent was one of the major challenges. It is apparent that startups faced two major roadblocks to hiring high-quality talent. Firstly, the lack of specialized skills in some sectors and secondly, the inability to compete on salaries.
4. Growth strategies: High growth-startups are usually seen as different from SMEs since they have a different focus as a business. Scale is the name of the game, 81% of the founders focused on optimizing for growth, over profitability as a business. While looking specifically at their operations, the findings revealed that 84% of these funded startups have in-house tech teams that will help them to diversify their products and services and propel growth. 
This report marks a first for the region as it delves into insights from founders. Bahoshy mentions "many of the reports MAGNiTT has published have been focused on funding, with geographical and industry trends. This report really digs into the startup founder's journey and the challenges they are facing. We hope this acts as an eye-opener to any decision-maker and becomes a basis for future studies in this space". 
MAGNiTT and 500 Startups will be at GITEX Future Stars in Dubai from 6-9 October, where they will be sharing further insights and data from the report along with the Q3 Venture Capital Investment report on the state of funding for the region. 
Click HERE to view the complete State of MENA Startups 2019 - English
Click HERE to view the complete State of MENA Startups 2019 - Arabic
Click HERE to register to MAGNiTT
MAGNiTT, founded by Philip Bahoshy, is the largest investment data platform for the MENA startup ecosystem, be it investors, entrepreneurs and corporates. Based out of Dubai, UAE, MAGNiTT connects entrepreneurs directly with ecosystem stakeholders including funders, mentors, support services, and talent. Startups can apply for funding directly to VCs and angel networks using their MAGNiTT profile. Simultaneously Investors, Corporates, Mentors and Service providers are able to review information on over 8,500 startups including funding history. MAGNiTT has a data driven approach to educating users on the funding landscape through analytical reporting and data dissemination.
For more information about MAGNiTT visit http://magnitt.com
500 Startups is a venture capital firm on a mission to discover and back the world's most talented entrepreneurs, help them create successful companies at scale, and build thriving global ecosystems. It is one of the most active venture capital firms in the world.
Since its inception in Silicon Valley, 500 Startups has invested in over 2,300 companies via its 5 global funds and 15 thematic funds dedicated to either specific geographic markets or verticals. Its 100+ team members are located in 20 countries around the world in order to support the 500 Startups global portfolio of investments which spans more than 75 countries.
Notable investments in the 500 portfolio include Credit Karma, Twilio, Canva, Grab, Bukalapak, The RealReal, Talkdesk, Knotel, Udemy, and Ipsy.
Beyond providing seed capital, 500 supports startups via their Seed Accelerator Programs which emphasize digital marketing, customer acquisition, lean startup practices, and fundraising for pre-Seed companies. 500 Startups further contributes to the development of innovation ecosystems by supporting startups and investors through educational programs, events, conferences, and partnerships with corporations and governments around the world.
Silicon-Valley based 500 Startups is one of the most active early-stage Venture Capital Fund in the Middle East and North Africa (MENA) region.  Since its first investment in the region in 2012, 500 Startups has committed to investments in over 100 startups across the region. With the launch of 500 Falcons, a MENA focused fund in 2017, 500 Startups plans to invest in approximately 100-150 companies over a three-year period in addition to follow-on investments into the top-performing companies. For further information, please check our website: https://www.500.co
Submit Your Article Now
Send Your Feedback
EgyptInnovate site is not responsible for the content of the comments

View Egypt Innovation Map