Dubai Supreme Council of Energy unveiled Emirates Energy Award 2020 in Cairo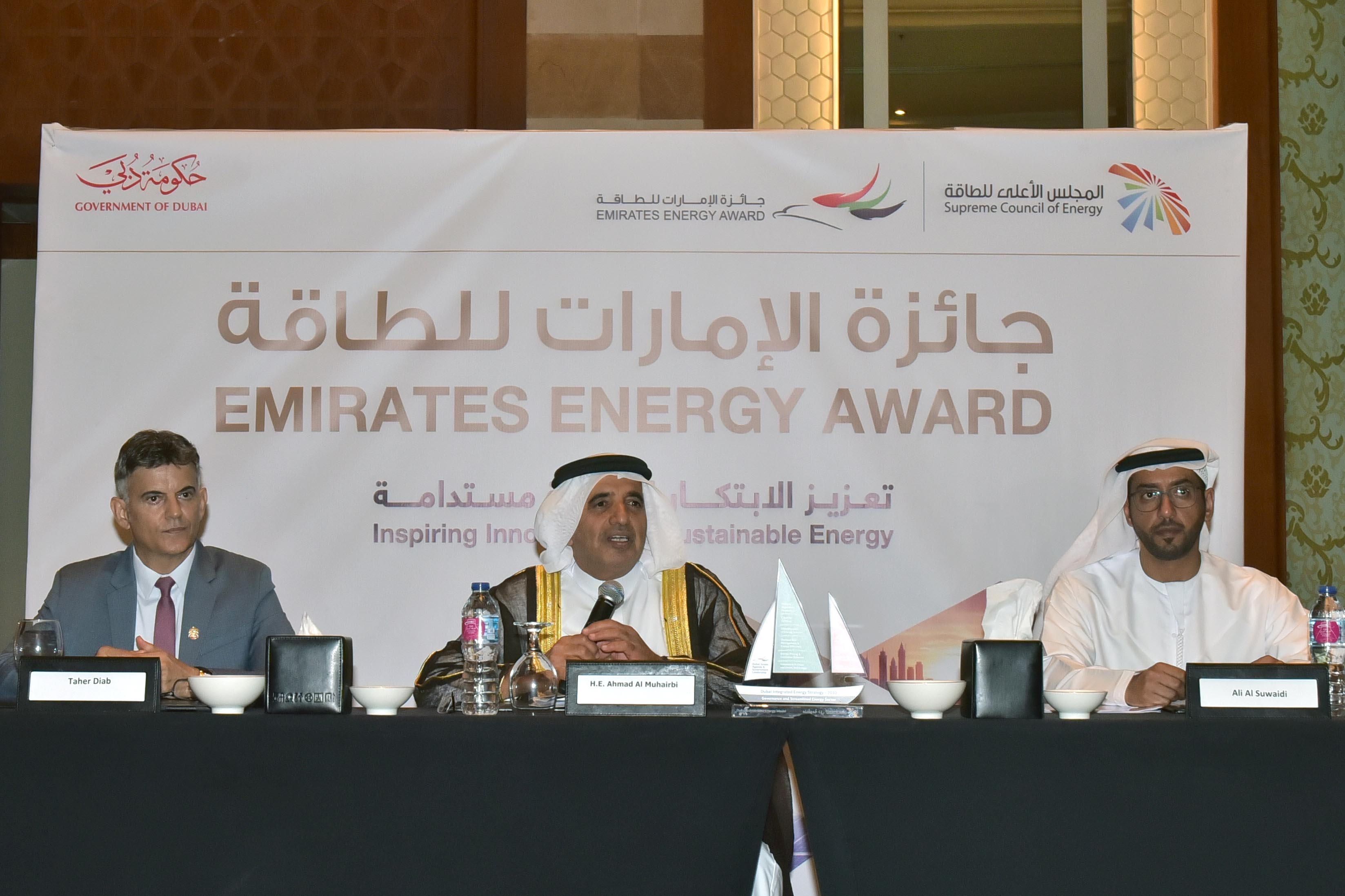 The Dubai Supreme Council of Energy held a press conference on 12 September 2019 in Cairo, to highlight the fourth edition of the Emirates Energy Award 2020, organized under the patronage of His Highness Sheikh Mohammed bin Rashid Al Maktoum, Vice President and Prime Minister of the UAE and Ruler of Dubai, under the theme "Promoting Innovation for Sustainable Energy", as part of its promotional plan across the Middle East and North Africa countries. 
HE Ahmed Butti Al Muhairbi, Secretary-General of Dubai Supreme Council of Energy and Deputy Chairman of the Executive Committee of the Emirates Energy Award, said, "The Egyptian Government and several private and public sector institutions in Egypt have been implementing numerous sustainable energy programs to achieve sustainable development, in addition to launching several leading regional and global projects in the field of solar power energy."
The press conference was also attended by Mr. Taher Diab, Secretary-General of EEA, Mr. Ali Al Suwaidi, Vice Chairman of EEA Marketing and Events, HE Jumaa Mubarak Al-Junaibi UAE Ambassador in Cairo, Dr Ahmed Mohamed Mohaina Undersecretary of Entity Followup at the Ministry of Electricity and Renewable Energy and Mr.Hany Dahi, former Minister of Transportation and President of the Egyptian Engineers Syndicate. Also among the attendees were senior officials from Egypt's energy industry and representatives from relevant universities, research centres and institutions concerned with renewable energy technologies.
The award aims to attract innovative individuals, research centers and public and private sector organizations to participate, while attracting the latest innovations, and solutions, in energy efficiency, renewable energy, and environmental sustainability and conservation. Within its 10 categories, the award recognizes and encourages various stakeholders in leading the way in the development of cutting-edge technologies that rationalize the use of energy and clean energy resources.
The Award's fourth edition has 10 categories, awarding excellence in Energy Efficiency-Public Sector, Energy Efficiency - Private Sectors; Large Energy Projects; Small Energy Projects; Connecting Solar Power to Buildings Project for Large Projects; Connecting Solar Power to Buildings Project for Small Projects; Education and Capacity Building Award; Applied Research and Product Development Award; Young Professional Energy Award; and the Special Recognition Award for an outstanding contributor to the energy sector.
For more information, click here.
Submit Your News Now
Send Your Feedback