Instabug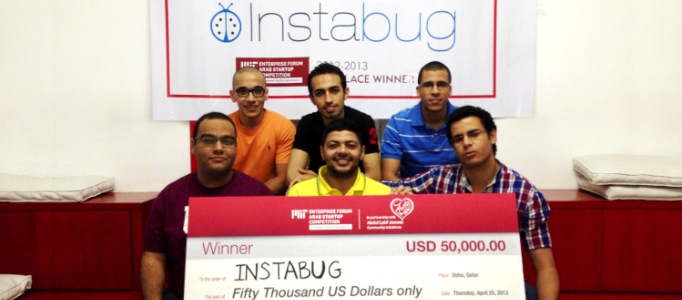 Instabug, an Egyptian app that reports bugs from users to app developers by simply shaking the device. Instabug was founded in 2012 by Omar Gabr and Moataz Soliman at the final semester of their Engineering Bachelor. The bug tracker created a buzz as soon as it hit the market. Local and global apps started using Instabug products, their clients list include many reputable names Asana, SoundCloud and PayPal are just a few examples.
What is the impact of Instabug?
"Some of our clients are giant companies like eBay  when they know that Instabug is an Egyptian technology made by Egyptian engineers, they become fascinated," Gabr explained. "We may not have a direct impact on the society or the environment, we may not have a tangible product but we put a spotlight on the Egyptian tech scene. We want to showcase that here in Egypt we have good minds that are able to build reliable technologies and even commercialize it."
Challenges
"Networking wasn't easy sometimes, I remember wearing the Instabug t-shirt and wandering around every possible event in town trying to get feedbacks on our demo", Soliman told us and elaborated that trying to reach global events was challenging sometimes. "We were not able to attend some international conferences due to difficulties in obtaining visas."
Awards
Only one year after they Gabr and Soliman started working on their idea, Instabug was recognized and awarded in several tech and entrepreneurship events. 2013 was definitely a huge success, they entered MIT Enterprise Forum Arab Startup Competition hoping to land more funds. Among 50 startups from the Arab region, Instabug was announced first place winners and received a $50,000.
Additionally, Gabr represented Instabug in the TechCrunch Disrupt, the top global tech conference, in San Fransisco, They were selected as finalists in "The Next Web 2013" conference in New York. And the last event of the year was "Mobile Beat" at San Fransisco where they released their final version. The team was chosen as one of the top five innovators in mobile worldwide.
Success Factors
Instabug started at Flat6labs incubator getting financial support and mentorship until their Incubation period ended. Afterwards, they needed to find an office and start hiring a bigger team, Technology, Innovation and Entrepreneurship Center (TIEC), offered them a working space at Nokia lab. Having a place to settle, they created partnerships with two companies to use their software development kit (SDK) and created a version of their product for windows application.
According to Gabr, "Instabug's key to success is not the founders or the investors, it's the team." Having dedicated candidates in your teams can help you create marvels.
 
Say something to young students and entrepreneurs
"Do not wait to start with something big, start on a small scale in order to validate your product as soon as possible," Soliman said. He concluded that entrepreneurs have to focus on choosing the right team and the right investor. Also, make sure that their investor will be adding value other than money.
Nominate Yourself
Send Your Feedback