Don't Seek Money, Seek Determination and Passion: Interview with Amer Yaghi, CEO and Co- Founder of AidMaid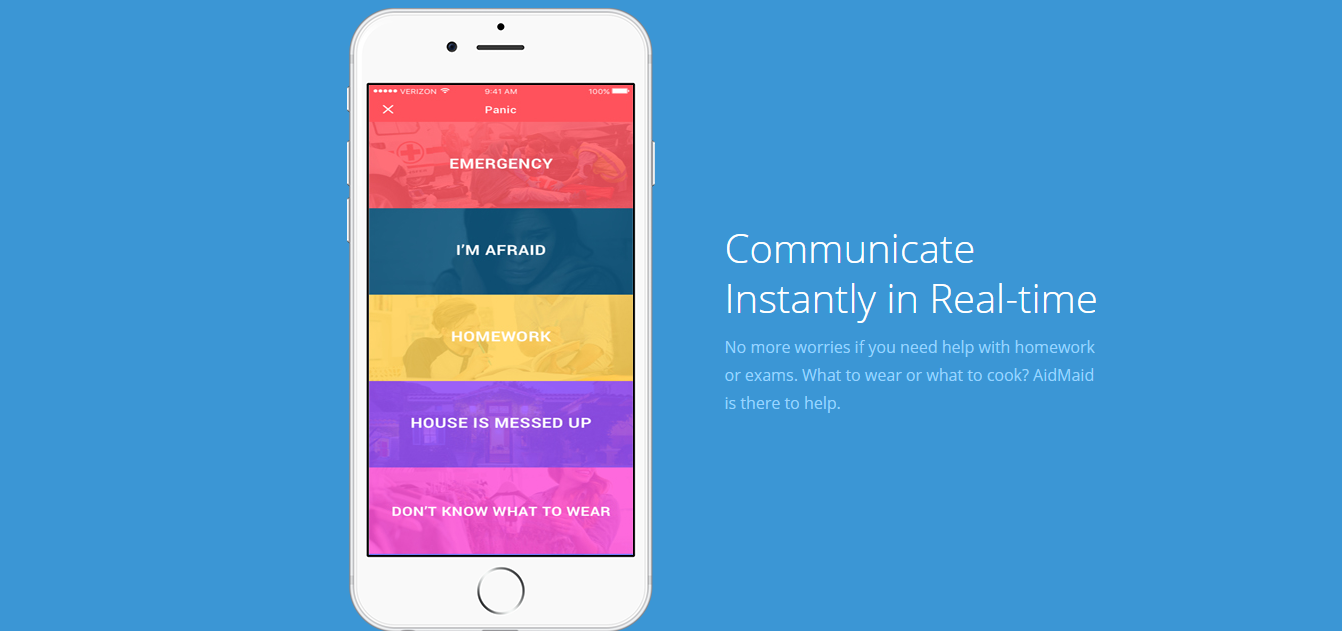 Amer Yaghi is considered one of the youngest entrepreneurs on the stage, he started his first venture, Chillax- a social network for teenagers that focuses on privacy and creates an environment where young people can post anything-, along with his older brother Mohamed Yaghi.
While developing Chillax mobile app, Amer came up with the idea of AidMaid, an emergency tool that helps saving lives.
But How? And What happened to Chillax? Additionally, at that age how were they able to execute a plan and go pitch their ideas in front of the investors?
To answer these questions and learn more about Yaghi brothers journey, EgyptInnovate interviewed Amer Yaghi, CEO, and Co- Founder of AidMaid or as he calls himself "The Dreamer".
At the Beginning, Let me tell you, When did it all start?
So it happened 2 years ago when my brother and I were at the age of 13 and 14 years old, we decided to create a social network just for teenagers because we did not like the fact that my mom and dad were on Facebook, Twitter, and Instagram. But, we were so young at that time we didn't know anything about entrepreneurship even our business plan was a bit weak and we didn't have much knowledge, unfortunately, that social network failed because you can't compete with Twitter, Facebook or Instagram especially when you are in our age.
Challenges
At the age of 14 did you actually know what a business plan is?
Yes, actually I did because I searched about it a bit. So the first one we prepared was 20 pages long, but it was all very silly we looked at it a couple of weeks ago and we were laughing so much. However, now all the investors are telling us that our pitches are perfect but we need to work on our product to make it perfect.
How was school and family support in that way?
The school wasn't that supportive really because they thought that we were just joking and nothing was serious but our family was supportive from the first day so as soon as we joined our dad gave us $5000 and he was willing to give us more and he made sure that every time  we faced a problem he was there to support us and he always told us that we should never give up and money shouldn't be the first thing because money will always come.
What Should be the first thing?
The first thing is determination and passion because if you are passionate about something, you will love what you are doing and you will work moreover, you will always be determined because you love that thing it's from your heart no matter what problem you face, you will keep on going.
How do you manage school?
Because I'm really smart, I intend to go to Harvard, so I find the school the easiest thing so I can manage my time easily.
So when you finish University are you planning to go on with your business?
Oh no, I actually want to be a surgeon, I also love Biology and Chemistry. So I just want to be an entrepreneur right now and hopefully I will be a surgeon and an entrepreneur.
What's your biggest challenge so far?
The biggest challenge probably so far is trying to build the team because we are still young and it is hard to convince employees to come and join you, luckily, we have 2 designers and 2 developers working for us.
Did you ever regret what you are doing?
No, I never regretted what I'm doing but there were times that we thought that we were going to fail actually a lot of times. Every day and day we feel like we are succeeding and other times we feel so bad, this actually happens to us every single day.
What do you do when you feel bad?
I just continue working on the app and then I forget about it.
Achievement and Funds
What are you working on nowadays?
Now we have this emergency app called "AidMaid", So whenever you are in trouble just shake your phone and it immediately contacts the police and all your friends. Also, you feel that you are about to enter a dangerous area what happens is that you can send a message to your friends saying "I'm nervous" and they can track you and know exactly where you are going. So they can track you to see where you are going and when you arrive safely it notifies them and we are mainly targeting females from the age of 14 to the age of 24 in the U.S.
What about investments? How do you guys seek fund/ approach investors?
In the Seed round we got $200 thousand and right now we raising $2 million for the series A round. We just raising funds by talking to different investors but we already discussed with many such as 500 startups and we also got a deal or still in discussion with Flat6Labs and Oasis500.
So far what's your biggest achievement?
Our biggest achievement is getting $200 thousand from Nabil Al-Jammal, Saudi Angel Investor, and also pitching to Oasis500 and Flat6Labs.
What do you tell students who are the same age as you?
You have to love what you are doing and be passionate about it because once you are passionate about something everything else will easy. Because when it come really from your heart, you will be working on it the whole time and no matter what problem you face you will keep on going and if you only focus on school do this very well, study really hard and try to get the highest grades and become successful but also don't focus on school only and try to balance your life, you don't need to be an entrepreneur, you can do sports and community service anything else but you can't do the only school.
That was Yaghi's story. Entrepreneurship is ageless all you need is to unleash your ideas and execute it.
Nominate Yourself
Send Your Feedback