You are here
Pitching an Innovative Idea (Part 2)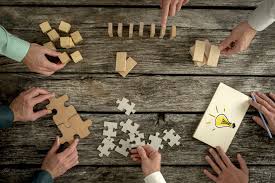 This is the second part of Pitching an Innovative idea. To read the first part, click here.
4) Evaluate your own idea, exploring things like its risks, implications, cost, impact and likelihood of success. Your credibility may depend on how well you can articulate and address the minuses as well as the pluses.
5) Acknowledge that there are uncertainties and risks, and discuss how you intend to handle them. Look for low risk ways to test ideas, get answers to key questions, resolve disputes and address criticisms. Explain why the potential payoff is worth facing those uncertainties.
6) Make buy-in as easy and low risk as possible. Seek a commitment to move forward in some feasible way, perhaps taking some initial incremental steps rather than asking for the immediate total adoption of your suggestion. Ideally, you want to get folks invested in your idea in at least some small way, whether that's financial, personal or emotional. Once they've made that initial investment, they're more likely to be supportive going forward. When done well, this progression should describe how to move from a current situation that is no longer acceptable, to a more desirable future state. This exact sequence may vary. For example, it may be more compelling to first articulate an appealing future, and then compare that to a troubling present. That future outcome must be compelling enough to overcome the inevitable fears and uncertainties that any new idea brings. Finally, keep in mind that pushing new ideas is like scoring in soccer. It sometime takes a lot of shots on goal to get one good score.
Become a leader
Send Your Feedback
EgyptInnovate site is not responsible for the content of the comments

View Egypt Innovation Map