Techdays Meet Up: first virtual matchmaking event for EU & MENA innovators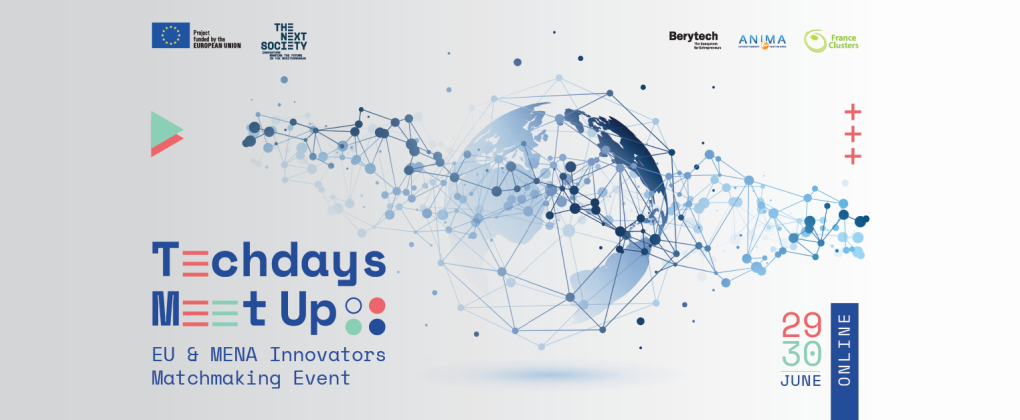 THE NEXT SOCIETY announced the launching of 2021 TechDays on29-30 June, a series of events to bring about collaborations among MENA innovators and with their EU peers, with clusters playing a key role in the value chain. Clusters, SMEs, start-ups, researchers and industry experts from Algeria, Egypt, Jordan, Lebanon, Morocco, Palestine, Tunisia and Europe are invited to a series of 3 events to discuss common visions and explore potential partnerships.
the #TechDays aim at promoting cluster and network cooperation and explore common visions among MENA countries and with Europe; initiating discussions that would ultimately result in Letters of Interest, Memorandum of Understanding, and other types of partnership agreements; highlighting innovations from MENA countries and illustrate the importance to develop suitable solutions to the distinctive features of these markets; and initiating a co-creative process for solutions by bringing out ideas of pilot projects associating researchers, companies, industry experts and clusters.
Over two days, Tech Days Meet Up will stream discussion panels and expert roundtables, followed by an advanced intent-based B2B matchmaking to help you connect with relevant peers and stakeholders in Europe and the MENA region from the comfort of your home.
Day 1: Connecting cluster managers and board members, policymakers, industry players, academia and TTOs
On the first day, participants will connect with key stakeholders in the EU & MENA region. Exchange expertise and visions, develop cross-institution partnerships, explore market expansion opportunities, identify funding strategies, and learn how to maximize your overall performance, visibility and impact.
Day 2: Connecting cluster members, startups, SMEs, entrepreneurs, innovators & industry leaders
On the second day, participants will connect with cluster members, SMEs, startups, and industry leaders from the EU & MENA region. Discover the importance of clusters in developing your business, explore the latest innovations in the region, forge partnerships with others, and get the chance to access new markets and expand.
The event is open for all business sectors, with a specific focus on agri-food, fashion and textile, energy, health, ICT, mechatronics, raw materials and tourism.
THE NEXT SOCIETY is an open community of change-makers, entrepreneurs, investors, corporates, NGOs, public and private innovation, research and economic development hubs from Europe and 7 Mediterranean countries: Algeria, Egypt, Jordan, Lebanon, Morocco, Palestine and Tunisia. It aims at mobilizing, promoting and reinforcing innovation ecosystems and economic development in the MENA region.
Register Here and Join 400+ attendees from the region's most active business clusters, industry players, and leading academic, tech transfer, and R&D institutions to exchange knowledge, forge new partnerships, and open up new collaboration and growth opportunities across the European and Mediterranean markets.
Submit Your News Now
Send Your Feedback