Meet the winners of FTxSDG Challenge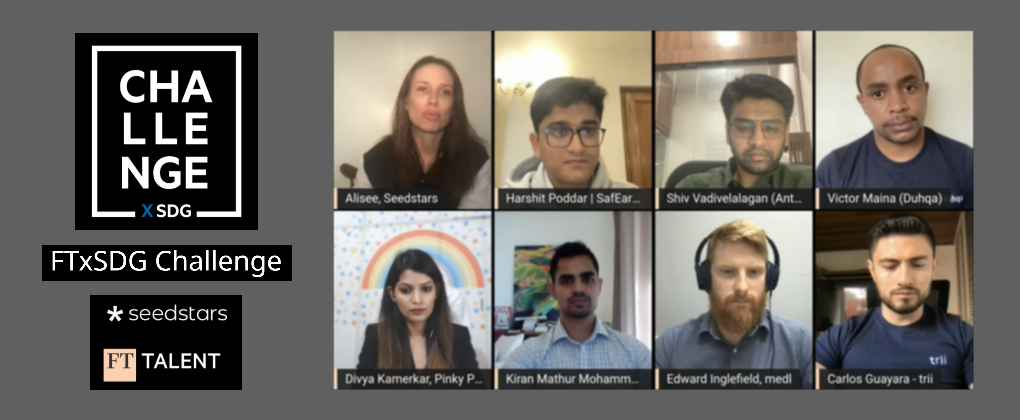 Financial Times and Seedstars announced the winners of the FTxSDG Challenge: Anthem, India (Quality Education); Duhqa, Kenya (Reduced Inequalities); Medl, Trinidad and Tobago (Good Health & Wellbeing); Pinky Promise, India (Gender Equality); Trii, Columbia (Good Jobs & Economic Growth); and SafEarth Clean Technologies, India (Climate Action). The winners will have the chance to join the Seedstars International Fund and get up to $500K in funding.
Out of 4,500 applications received for The FTxSDG Challenge, the Seedstars and Financial Times team have selected 30 finalists to compete for the six global winners' spots for each SDG. You can check the full list of finalists Here.
The startup finalists pitched their ideas to experts in their respective SDG categories, and the winners are the following:
Quality Education Winner
Anthem, India - a simple and powerful SaaS tool built to keep the needs of mid-sized educational institutions in mind. It helps automate their four fundamental functions – fee collection, expense management, admissions, and communication.
Reduced Inequalities Winner
Duhqa, Kenya - For a small shop selling consumer products, they struggle to get a one-stop shop for their procurement needs, financing, and logistics. Duhqa is solving this problem and provides a tech solution that enables them to shop from manufacturers, get financing, and have all items delivered to their shop in under 6 hours.
Good Health & Wellbeing Winner
Medl, Trinidad and Tobago - Medl's end-to-end prescription platform, to-your-door delivery, and continuing patient management scraps the traditional pharmacy model to transform the patient experience for the $75bn LatAm pharmaceutical market.
Good Jobs & Economic Growth Winner
Trii, Columbia - a Colombian Fintech partnered with the Colombian Stock Exchange to develop the first trading app in the country. They can serve millions and make the local stock market accessible and empower small investors.
Climate Action Winner
SafEarth Clean Technologies, It helps users to use renewable energy and choose the right solar plants at the lowest possible price with zero errors.
Gender Equality Winner
Pinky Promise, India - Pinky Promise provides high-quality, automated reproductive healthcare to every woman in the world. Their gynecologist-verified chatbot walks a woman from her symptom, all the way to an answer for that symptom.
News Source: Here.
Submit Your News Now
Send Your Feedback