MCIT, GIZ Co-organize GovStack Workshop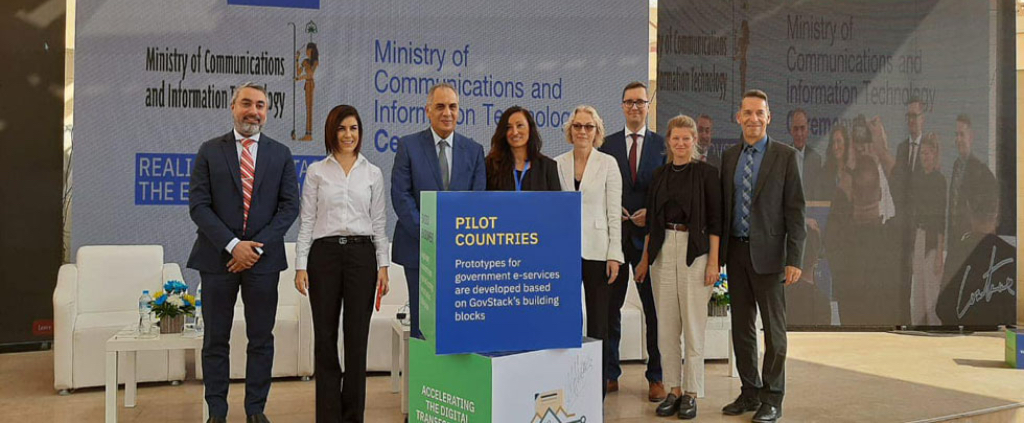 The Ministry of Communications and Information Technology (MCIT) has organized an international forum to discuss the principles and concepts of the GovStack initiative. This comes as part of the efforts made to achieve digital transformation and exchange experiences and knowledge in this field worldwide.
The GovStack initiative is aimed at supporting countries in achieving digital transformation. It is implemented within the framework of the Supporting e-Government and Innovation in the Public Administration (InnoPA) project by the German Agency for International Cooperation (GIZ) on behalf of the German government.
The forum reviewed the Egyptian experience in achieving digital transformation according to international standards and best practices within the framework of Digital Egypt strategy, especially since Egypt is one of the first countries to follow the principles of designing digital transformation for governments through GovStack worldwide.
A number of officials from international and local entities, as well as local and international experts in digital transformation participated in the forum in person at CREATIVA Innovation Hub at Sultan Hussein Kamel Palace or via videoconference.
Initiated in 2021, the GovStack initiative is led by the German government, Estonia, GIZ, the International Telecommunication Union (ITU), and the Digital Impact Alliance. The initiative aims to support countries to achieve digital transformation safely, quickly, and efficiently and accelerate the digital transformation of government services. It also establishes partnerships with governments, several entities, the private sector, and the open-source community.
The forum highlighted MCIT efforts in completing integrated digital systems to serve citizens with the latest international standards, keeping pace with rapid technological changes, and achieving integration with the participatory applications with which the government will work in the New Administrative Capital. Furthermore, mechanisms for implementing an all-encompassing government approach and means to strengthen cooperation among countries, concerned entities, and digital transformation experts were also discussed.
The event included several workshops and panel discussions to exchange insights on various areas that affect the digital transformation roadmap, in cooperation with the private sector.
The Deputy ICT Minister for Administrative Development, Digital Transformation, and Automation Khaled El-Attar reviewed the government's national digital transformation strategy during the coming period, including restructuring government procedures. He also discussed various topics with those responsible for digital transformation in some countries, including Estonia, Ireland, and Mexico, to identify the most significant challenges facing the countries in implementing digital transformation. The discussions resulted in recommendations to help modern countries implement digital transformation to become modern digital countries.
For her part, Estonian Ambassador to Egypt Ingrid Amer emphasized that Estonia has a political will to develop and implement digital transformation, adding that 99% of government services have been digitized. She pointed out that Egypt is implementing major projects to enhance cooperation between the two countries and exchange experiences. She stated that GovStack contributes to designing and building digital governments.
The Director of the ITU Regional Office for the Arab States Adel Darwish said he was pleased to cooperate with MCIT since it has distinguished experiences in launching digital government services in light of "Digital Egypt" strategy. He looked forward to sharing Egypt's distinguished experience with countries in the region and the world. ITU is looking forward to supporting Egypt's national efforts in this field, especially in capacity building, as well as accelerating the cooperation within the coming period, he added.
Deputy Country Director at GIZ Egypt Kay Andraschko highlighted that the German Federal Ministry for Economic Cooperation and Development (BMZ) has believed that digital transformation has provided great opportunities to improve the lives of all citizens worldwide. He pointed out that in Germany, a digital strategy has been formulated under the name "Digitalization for Development" to leverage digital transformation. He added that GIZ will support Egypt on its journey to achieve digital transformation and enhance digital inclusion.
For her part, ITU Senior Project Coordinator for GovStack Initiative Yolanda Martínez explained the efforts made to provide effective building blocks, starting from the idea and its adoption, to application and implementation. All stakeholders together use those building blocks to design and implement effective digital government systems where the interests of countries and the challenges they face are prioritized to find digital solutions. She added that ITU has been working to learn from partners' experiences and best practices.
It is worth noting that Egypt joined GovStack as a partner country in June 2021. A technical team from the digital transformation team has been formed to attend and participate in all meetings of GovStack working group. The cooperation between Egypt and GovStack focuses on exchanging knowledge on the all-encompassing government approach to ensure achieving digital transformation according to best global practices.
Submit Your News Now
Send Your Feedback