ITIDA and Ottawa University to offer Egyptian Engineers Professional Master's degree in Emerging Technologies Majors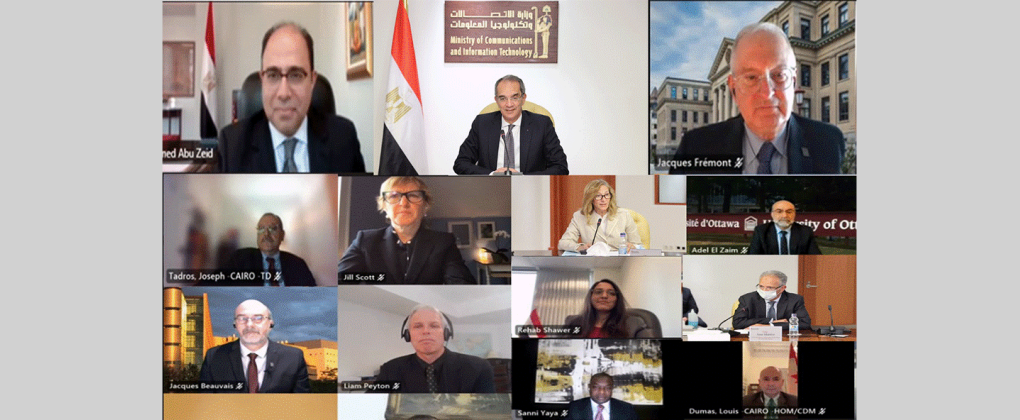 The Minister of Communications and Information Technology Amr Talaat has witnessed, via videoconference, the signing of an agreement of cooperation between the Information Technology Industry Development Agency (ITIDA) and the University of Ottawa, in Canada, for granting a professional Master's degree in electrical and computer engineering within Digital Egypt Builders Initiative (DEBI).
The program is to start in May for the students joining the Spring 2021 Semester, in three majors: Artificial Intelligence (AI) and data science; robotics and Internet of Things (IoT); and cybersecurity.
During the signing ceremony, the ICT Minister said that signing the agreement comes less than three months after signing a Memorandum of Understanding (MoU) with the University of Ottawa. The cooperation will be achieved through clear steps within an action plan that achieves mutual benefit and contributes to strengthening DEBI efforts.
Talaat announced that new specializations will be offered within DEBI, including fintech, digital arts, and electronic design, providing opportunities for cooperation and coordination with new colleges. He said that he looks forward for the cooperation with the University of Ottawa in these areas, within DEBI.
The ICT Minister added that partnerships have been established with international institutions to hone DEBI students' digital skills according to the latest technologies. In addition, students will receive excellent professional training opportunities and international certificates and will have their language and administrative skills developed.
For his part, the Egyptian Ambassador to Canada Ahmed Abu Zeid underlined the strong Egypt-Canada bilateral ties spanning more than 60 years. He said that the agreement will help deepen those ties in education, given Canada's world-class education in Research and Development (R&D), innovation and entrepreneurship, according to the industry requirements. The said cooperation will help students improve their experience with the knowledge needed to overcome global challenges, Abu Zeid added.
The Ambassador of Canada to Egypt Louis Dumas referred to the University of Ottawa's leadership in education and knowledge. He said that this cooperation will help attain the University strategy towards becoming an international university, representing a new era of relations between Egypt and Canada. Dumas added that there are 10,000 students enrolled in the Canadian education system in Egypt.
ITIDA CEO Amr Mahfouz highlighted the significance of investing in young Egyptian talents to create a generation of skilled people capable of keeping up with the local and international market requirements. This will, accordingly, help further promote Egypt as a global IT hub, and attract more foreign investments. The cooperation with the University of Ottawa within DEBI will contribute to "building the Egyptian citizen" pillar of MCIT strategy, Mahfouz added.
For her part, the Advisor to the ICT Minister for Technological Talents Hoda Baraka stated that pursuant to the agreement, faculty members at the University of Ottawa will educate, guide and evaluate the program students. The University will also grant DEBI administrative team supporting students access to the digital version of the program curriculum. DEBI, however, will provide the necessary logistics, administrative services and technical support, at its headquarters in Egypt, to ease access of students to the program and help carry it out, Barakat added.
The University of Ottawa President Jacques Frémont said that he is happy with this milestone that represents a partnership between the University and MCIT. He added that he appreciates DEBI ambitious objective of building young people's capacity, which will cover Egypt, the Middle East and Africa's needs of tech-savvy people, the Fourth Industrial Revolution technologies geeks.
The Dean of the Faculty of Engineering, University of Ottawa Jacques Beauvais said that the last few months have proved that such a strategic partnership enriches the University's expertise in AI, data science, IoT, robotics and cybersecurity, thus boosting the University's capability to train young engineer and future leaders in technology. The cooperation serves as the foundation for working in innovation and qualifying a new generation of engineers capable of sharing ideas with the world.
The University of Ottawa is one of the top research universities and the eighth-best international university in Canada. On the national level, the University is a leader in research related to applied AI, Machine Learning (ML), data science, IoT and robotics.
The Faculty of Engineering, University of Ottawa offers an online Master's degree in electrical and computer engineering; this is a 27-credit-hour program provided in English, and completed in a year, in three semesters. The program first intake starts in May, with other intakes taking place in May of the following years, up until the final intake, with which the program shall be completed, in April 2024.
The agreement was signed by Mahfouz, Frémont and Sanni Yaya, University of Ottawa Vice-President, International and Francophonie. The signing ceremony was attended by the Advisor to the ICT Minister for Technology Innovation, Electronics Industry and Training Hossam Osman, MCIT officials, professors of engineering and computer science and academic advisors to MCIT.
MCIT launched DEBI with the aim to develop the skills of and equip the top graduates of faculties of engineering, computers and information with knowledge and practical experience through a comprehensive educational and training program, qualifying them to carry out Digital Egypt projects, and boosting their competitive edge in local and global job markets.
Application for Spring 2021 Semester opened last November, receiving more than 400 applications. After several admission tests and interviews, 110 students - graduates of faculties of computers and information, electronics engineering, computer engineering, medical engineering, and mechatronics, from different governorates, including Greater Cairo, Delta, Upper Egypt, Alexandria and Suez - were accepted. Students from Delta and Alexandria make almost 50% of the total number of students of such intake.
Study in Spring 2021 Semester started in early February with the leadership, administration and language skills program, along with the training programs offered by international companies including Amazon Web Services (AWS), Cisco, IBM, Microsoft and VMware.
Programs are offered online as part of the precautionary measures adopted by the government to curb the spread of COVID-19. Study will take place at DEBI headquarters in Cairo, as of March 23. Application for Summer 2021 Semester opened in March 10. For more information about DEBI, please call 15388, or visit DEBI website.
Submit Your News Now
Send Your Feedback