Berytech Announces Regional Innovation Factory Program 2020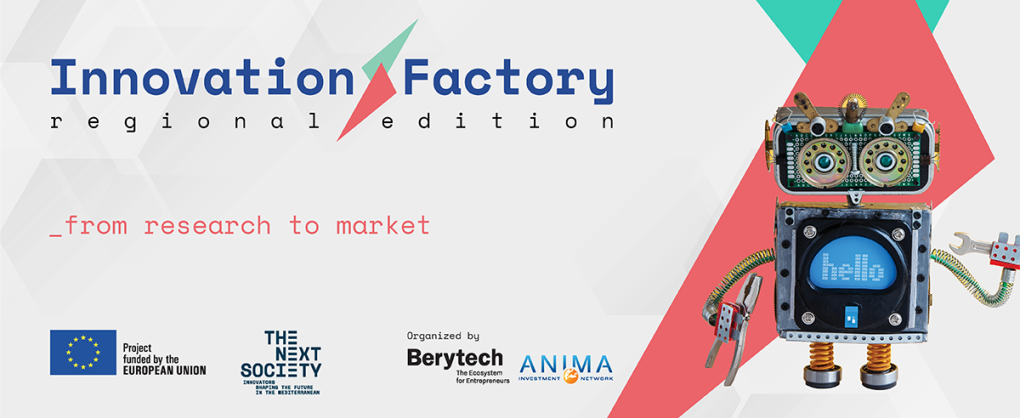 Berytech in partnership with ANIMA Investment Network and in collaboration with partners from THE NEXT SOCIETY Mediterranean network in Algeria, Egypt, Jordan, Lebanon, Morocco, Palestine, and Tunisia, is launching the first regional edition of Regional Innovation Factory, a regional digital edition of the Innovation Factory program in Lebanon. The program aims to foster regional exchange of best practices and international innovation opportunities among applied research and technology transfer players.
Berytech is managing the fourth edition of the EU-funded Innovation Factory: from research to market, a program allowing researchers, innovators, engineers, and professors from seven (7) Mediterranean countries to develop their research or technological innovation in any sector into a practical and commercially viable product or service.
Berytech is the ecosystem for entrepreneurs, providing a dynamic environment for the creation and development of startups, fostering innovation, technology and entrepreneurship in Lebanon. Since 2002, Berytech has housed more than 330 entities, assisted more than 3,700 entrepreneurs, helped create more than 1,800 job opportunities, granted more than $1.7M to startups, raised $19.5M in funds to manage programs, and has been investing more than $70M in Lebanese technology companies.
"Addressing technology transfer is a top priority for THE NEXT SOCIETY movement: we are convinced it represents a major driver of value creation and innovation for the Mediterranean region. Our ambition is to demonstrate that research-based startups offer effective responses to economic, social and environmental challenges in our countries, and beyond," comments Zoé Luçon – Senior Expert at Anima Investment Network, in charge of the Tech Transfer Booster Track in THE NEXT SOCIETY.
---
Learn more about the Regional Innovation Program
and Apply Here before November 5, 2020
---
"Research, innovation, and technology development play a crucial role in addressing the challenges we are facing in a novel approach and create viable solutions that impact positively the environment and society, creating new rising opportunities," explains Krystel Khalil, Director of Programs at Berytech.
In the process of adapting to the new economy's opportunities, the Regional Innovation Factory Program will target applied research and innovative projects that address a post-pandemic world. This will help in creating a positive impact for the Mediterranean region and generating viable opportunities with a new business and technology perspective, tackling digital technologies, fin-tech, new energies, project management, healthcare, education, entertainment and gaming, digital infrastructure, emotional wellbeing, supply chain logistics and more.
Regional Program Timeline
Berytech will shortlist 21 teams from the 7 partner countries, who will attend a 3-day entrepreneurship bootcamp with seasoned experts in December 2020. The teams will pitch in front of jury members to get feedback and get selected to receive incubation support from Berytech. Berytech. In February 2021, seven (7) selected teams will attend a virtual matchmaking event with industry experts and potential investors for the selected projects. The selected teams will benefit from the 4-month incubation support and a grant from Berytech and partners for technical and business assistance. One team will be selected for a Soft-landing opportunity to get short-term business and collaboration support from a European partner.
Selection Criteria
Candidates wishing to participate in the Regional Innovation Program need to fit the following criteria:
Applied research or project is innovative and technology-based
Project has an existing prototype or product launched in the market
Project addresses an important economic or social need
Market and economic viability of the project
Potential of scalability to the Mediterranean region
Team expertise and motivation
Projects that capitalize and address opportunities in the post Covid-19 society are a plus
Project should be based in Algeria, Egypt, Jordan, Lebanon, Morocco, Palestine, or Tunisia and should include at least 1 member who holds the nationality of the country
The process of commercially developing research technology into new products or services varies   
Learn more about the Regional Innovation Program and Apply Here before November 5, 2020.
THE NEXT SOCIETY is an open community of change makers, entrepreneurs, investors, corporates, NGOs, public and private innovation, research and economic development hubs from Europe and 7 Mediterranean countries: Algeria, Egypt, Jordan, Lebanon, Morocco, Palestine and Tunisia. It aims at mobilizing, promoting and reinforcing innovation ecosystems and economic development in the MENA region. To reach these goals, THE NEXT SOCIETY launched a four-year action plan (2017-2020), co-funded by the EU up to 90% for a global amount of EUR 7.8 million budget. It supports the emergence of talents and innovative leaders who will drive the next trends and usages by targeting startups, clusters and technology transfer offices to accompany their development.
Submit Your News Now
Send Your Feedback