You are here
Teach to Start-Up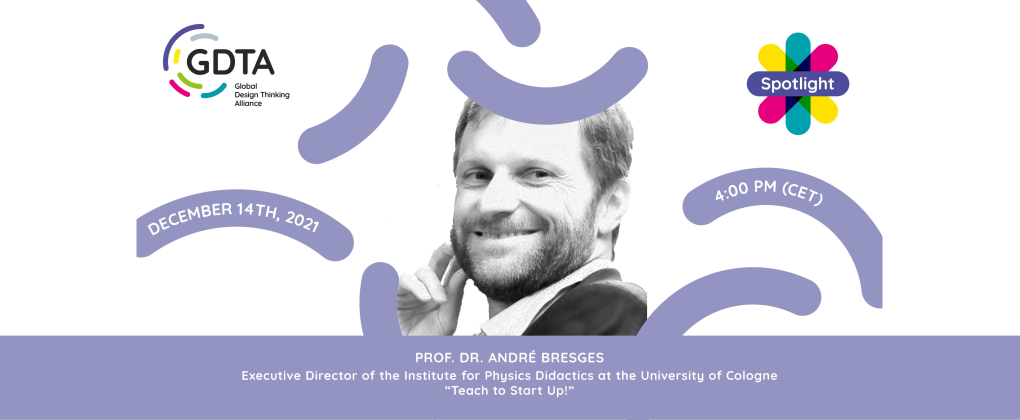 Event Organizer
Global Design Thinking Alliance (GDTA)
Event Type
Pitching / mentoring / investment days
City
Event Details
We are happy to invite you to our next GDTA webinar – an opportunity for global Design Thinkers to gather online to discuss important issues from our community.
The next online session will take place on December 14th, 2021, at 4:00 pm (CET) via Zoom.
Prof. Dr. André Bresges, Executive Director of the Institute for Physics Didactics at the University of Cologne, will talk about "Teach to Start-Up!".
Universities worldwide are shifting their focus on three pillars: Research, Teaching, and Community Service. Especially for public founded or state universities, it is important to show how scientific work gives back to the communities that support it. It acknowledges, furthermore, that universities foster growth and well-being for their surrounding communities.
How might a large university get sensitive and develop insights into the needs of their surrounding community? Two agencies of Universities come into focus: Startup and teacher education centers. Both agencies are completely separated by background, culture, and personnel. But both have typically an extended network into the community: Markets and market players, on the one hand, schools and families on the other. And both worlds can be connected by one idea: Design Thinking.
In our talk, we will explain the Idea of Colognes's "Teach to Start-Up!" approach and show examples of how Design Thinking connects people of the same community, yet worlds apart, in a structured process.
Register Here.
Cost
Add To Your Calendar
Send Your Feedback
EgyptInnovate site is not responsible for the content of the comments

View Egypt Innovation Map