You are here
The ITU Global Innovation Forum 2021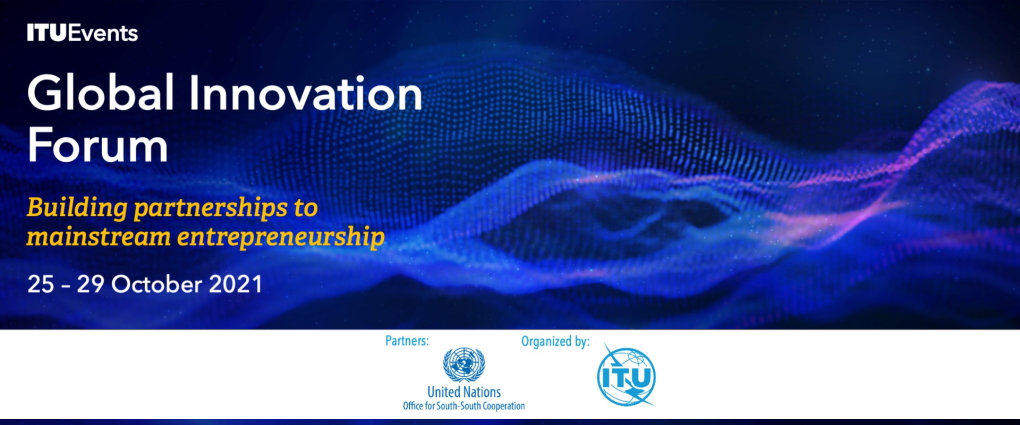 25
Oct 2021
To
29
Oct 2021
City
Event Details
ITU is hosting the 2021 edition of ITU Global Innovation Forum, from 25 to 29 October, to empower participants with new insights, skills, tools, frameworks and relevant case studies to understand how to leapfrog the digital innovation divide, prepare and recover from global crises such as the pandemic and accelerate job creation in countries.
The forum will cover:
Day 1 (opening day) will highlight the innovation divide and its impact on social conditions in the COVID-19 era, as well as the role of entrepreneurship-driven digital innovation in closing the gap.
Day 2 participants will engage in discussions about new partnership requirements for entrepreneurship-driven innovation through the lenses of key ecosystem stakeholders.
Day 3 will bring regional dimensions; focusing on countries' readiness and demonstrating practically how key sectors of the economy can benefit by nurturing digital innovation.
Day 4 will continue the regional deep dives by sharing good practices and stories of digital change-makers, and offering insights for new partnership actions at the regional level.
Day 5 (closing day) will bring the discussion full circle with a call for interest in new partnerships to accelerate entrepreneurship-driven innovation. The winners of the 2021 Innovation Challenges will virtually receive their certificates during the award ceremony.
Register Here to attend  the forum.
Audience
The event is targeted at digital change-makers, policy-makers, the private sector, academics, entrepreneurial support organizations, entrepreneurs, financiers, community development managers, international organizations and media. All core sessions are available in the six languages of the United Nations. ​
Objectives
The forum will:   
support digital change-makers in building a bright future to enable tech-driven innovative businesses ;  
provide the expertise to boost your local ecosystem and encourage innovation by accessing knowledge, resources and opportunities ;  
offer the chance to connect with a network of partners and projects to improve your investment portfolio for social and economic impact ;  
gain insight on how to raise the entrepreneurship bar in your region by learning the tools you need to build an innovation-driven ecosystem  ; 
access resources that will empower you to overcome innovation roadblocks in your country by building future-forward tech innovation and entrepreneurship policies.
Cost
Website
https://www.itu.int/en/ITU-D/Innovation/Pages/2021-ITU-Global-Innovation-Forum.aspx
Add To Your Calendar
Send Your Feedback
EgyptInnovate site is not responsible for the content of the comments

View Egypt Innovation Map