You are here
EgyptInnovate Metaverse Day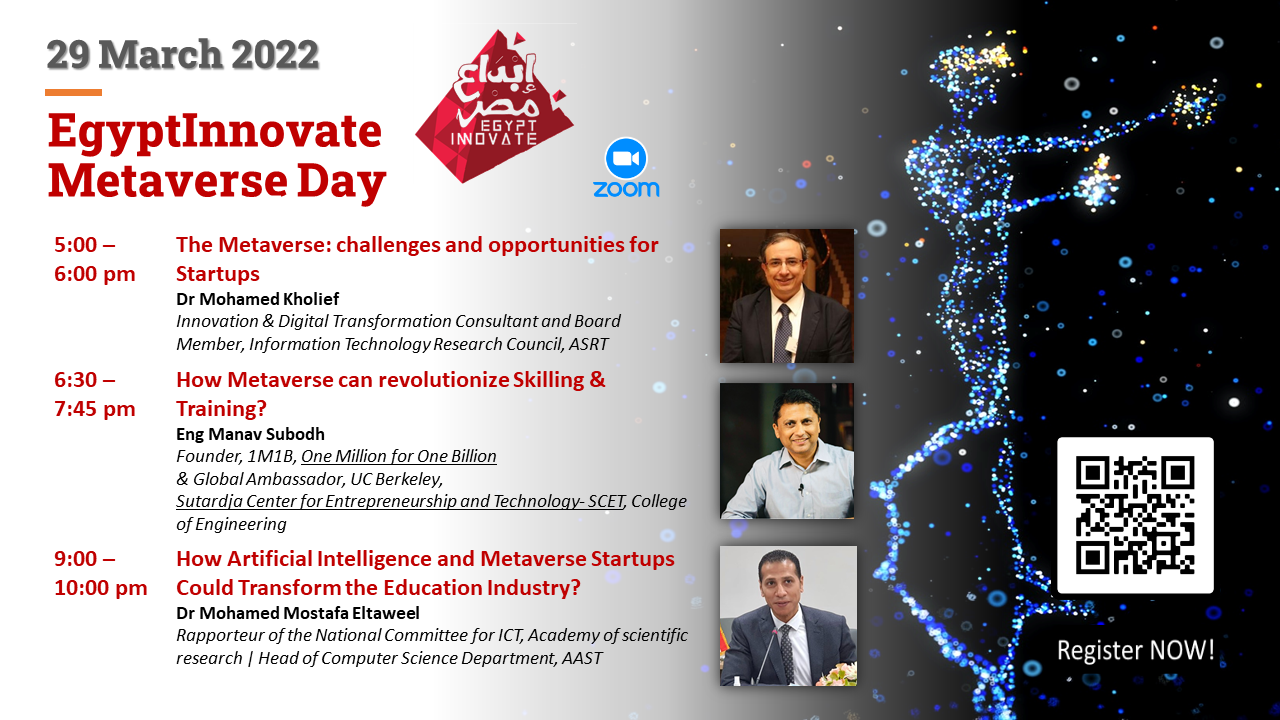 City
Event Details
"EgyptInnovate Metaverse Day", It is a day organized online by EgyptInnovate to introduce metaverse related technologies to Egypt's entrepreneurship ecosystem and present some opportunities for startups in this field. This day will be also one of the promotional activities for ibTIECar Metaverse @CREATIVA.
Register Now: https://bit.ly/36Ps4lN
We will have group of global thought-leader and impact creation expert who'll discuss how to innovate and use technology in Metaverse to solve the most critical issues in Egypt and around the world.
Agenda
5:00 – 6:00 pm
The Metaverse: challenges and opportunities for Startups

Dr Mohamed Kholief
Innovation & Digital Transformation Consultant and Board Member, Information Technology Research Council, ASRT
6:30 – 7:45 pm
How Metaverse can revolutionize Skilling & Training?

Eng Manav Subodh
Founder, 1M1B, One Million for One Billion
& Global Ambassador, UC Berkeley,
Sutardja Center for Entrepreneurship and Technology- SCET, College of Engineering
9:00 – 10:00 pm
How Artificial Intelligence and Metaverse Startups Could Transform the Education Industry?

Dr Mohamed Mostafa Eltaweel
Rapporteur of the National Committee for ICT, Academy of scientific research | Head of Computer Science Department, AAST
 
---
Register Now: https://bit.ly/36Ps4lN
---
Cost
Website
Add To Your Calendar
Send Your Feedback
EgyptInnovate site is not responsible for the content of the comments

View Egypt Innovation Map