They Did It. So Can You!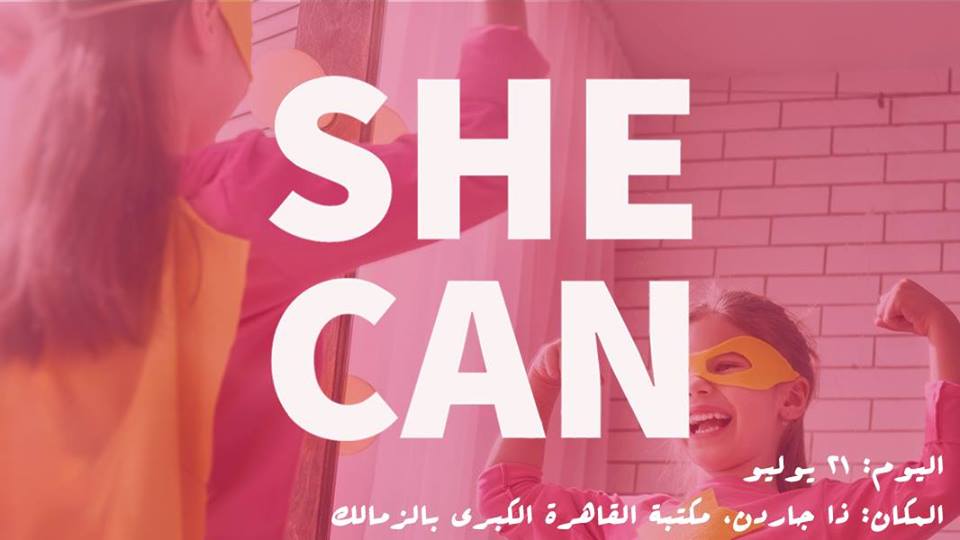 On a summer morning, in the Cairo heat, the pungent scent of brewing strength and determination was rising from The Garden Cafe in Zamalek.  
On July 21st, 2017, Entreprenelle held its third She Can event where a network of women helping women was established and allowed to grow by means of short encouraging talks, mentoring sessions and workshops that will be held in the upcoming period by successful female entrepreneurs.
Beyond Taboos
Yara El-Braidy hosted She Can, introduced upcoming speakers and lead the panel discussion. The admirably encouraging and empowering tone of acceptance that was set for the event was evident when Yasmine Helal, CEO of EducateMe, came up on stage with a sling carrying her infant daughter - breaking the taboos of what is thought to be professionalism. Yasmine talked about breaking social taboos and expectations of how women are to lead their lives, she told her story about how she chose to run both: her family and a business. She also raised the importance of abstaining from creating a moral judgment on others' or one's own choices, as that would be an enforcement of those social expectations.  
Following the tone of combatting social expectations, Manal Rostom spoke of her journey to become the first Hijabi model and run club coach for Nike, as well as a mountain climber. A prerequisite to these achievements was the realization that marriage is a matter of destiny. At 29 years, she woke up from the "coma of waiting" she had been in. Rostom spurred the audience to do the same, to work on their own dreams until these doors open by the hands of destiny.
She started out by secretly climbing Mount Saint Catherine, and now her father dreams of her climbing Mount Everest. If this does not speak volumes on how expectations really change, what does?
Self-care is essential
Yasmine Madkour, a life-coach, followed up with common problems women face due to the gender-specific upbringing that expects them to put themselves last for the care of people around them. The behavior that follows this is self-doubt and the inability to carry out your own views and decisions. Furthermore, this social assumption dismisses emotional burnout but by maintaining a sufficient level of self-care; caring for others will be a more sincere act that does not carry the expectation of reciprocity, and so avoids disappointments.
Yasmine Helal and her daughter. Photo credit:  Ask Photography 
Faith and Humility
Heba Rashed, the CEO of Mersal - an NGO advocating for health-related issues, spoke about how your efforts are never lost. With the right intentions and faith, her casual attempts of helping social causes turned into an NGO, with no capital of her own.
Roweidah Bibers' talk focused on public relations. As the managing director of POD Egypt, her experiences have shown her that most important thing is the ability to remain modest in realizing that we can always learn from anyone no matter what is their professional rank, age, or social status.
Panel Discussion: "What a startup takes"
When it comes to your business ideas, Shrouk Alaa, founder of Career 180, said that "confusion in choosing a work field is a big problem that many people encounter." Career 180 website will be the first platform in Egypt and the Middle East to provide advising sessions, videos, and career coaching by experts in all fields.
Founder and CEO of Al-Makinah, Bahia El-Sharqawy, said that her idea was inspired by the tech boot camp outside Egypt.
Namees Arnous, the founder of E7kky, spoke about the purpose of E7kky, which is for women to share their inspiring stories, aiming to go beyond current media representation of women that lingers on cooking and fashion. Also, E7kky project provides journalism training for women. Establishing it was difficult, however, as "it is hard to sustain and finance a journalistic project."
Personal Branding: Beyond your Business Brand
Radwa Rashad, CEO of Cherry Digital and Content Boutique, advised the audience to consider that publicly published on their personal social media accounts affects the business' brand, too. Rashad said: "You must be aware of what you should share publicly (opinions away from taboos) and what you should leave as private (personal pictures and opinions)."
Utilizing Opportunities
Rania Salah, the founder of GebRaa, talked about her experience of starting a cultural hand-crafts project. She got awarded from the UN for being the first environmental entrepreneur in Egypt and Africa. "You and your co-founder should have different fields to complete one another, do faster work, and have a more successful business."
Opening Up New Pathways
Eman Al-Amir, founder of Innovate and a publisher for travel literature, spoke of the numerous benefits of travel. As a way of facing one's fears and meeting new challenges and cultures, it opens up space for growth and exposure. "Budgeting and saving up for travel need to be on your priority list," she advises everyone.
Hoda Hamad is now a Growth Hacker at Al-Makinah, and she only started learning about coding after graduating from university. She announced on stage that Al-Makinah's Bootcamp teaches coding for people with no background beyond the basic use of computers. This program opens up new career opportunities, especially for women who may need to work from home, while earning respectable fees.
Don't Fear Change
Reham Abu El-Enein, the founder of BznsCloud, recommended trying yourself in many fields, even without background, for the sake of gaining exposure like her three exposures. First, she became a certified auditor under a UN scholarship, second, she manufactured a line of kids lingerie. The last exposure shaped her current position as a founder; she was working in an organization that acquired a technology company, where she became a partner.
Nehal Hamada's career is also defined by constant change. Now the founder of The Makeup Talk, she was a safety engineer first. "Career decisions at an early age should not define your future."
Overcoming
Shaimaa El-Gammal co-founded Ana 7amel online when she recognized that there is no original Arabic material to guide pregnant women and new mothers. She advised the audience to try new things, even if they fail. She also mentioned her struggle with bulimia nervosa. Instead of allowing it to drag her down, it actually motivated her to overcome it and to succeed.
On a July afternoon, in the Cairo heat, hands flapped to fan overheated faces. The cool water was served and shade was sought. Hairs were lifted, uncovering the backs of necks, longing for a breeze.
For fortitude never arises in comfort.
Co-written by Shaden Khalil and Laila Abdel Ghany
Submit Your Article Now
Send Your Feedback
EgyptInnovate site is not responsible for the content of the comments

View Egypt Innovation Map