Start IT, TIEC's Incubation Program, Chooses 9 Startups in its 23rd Round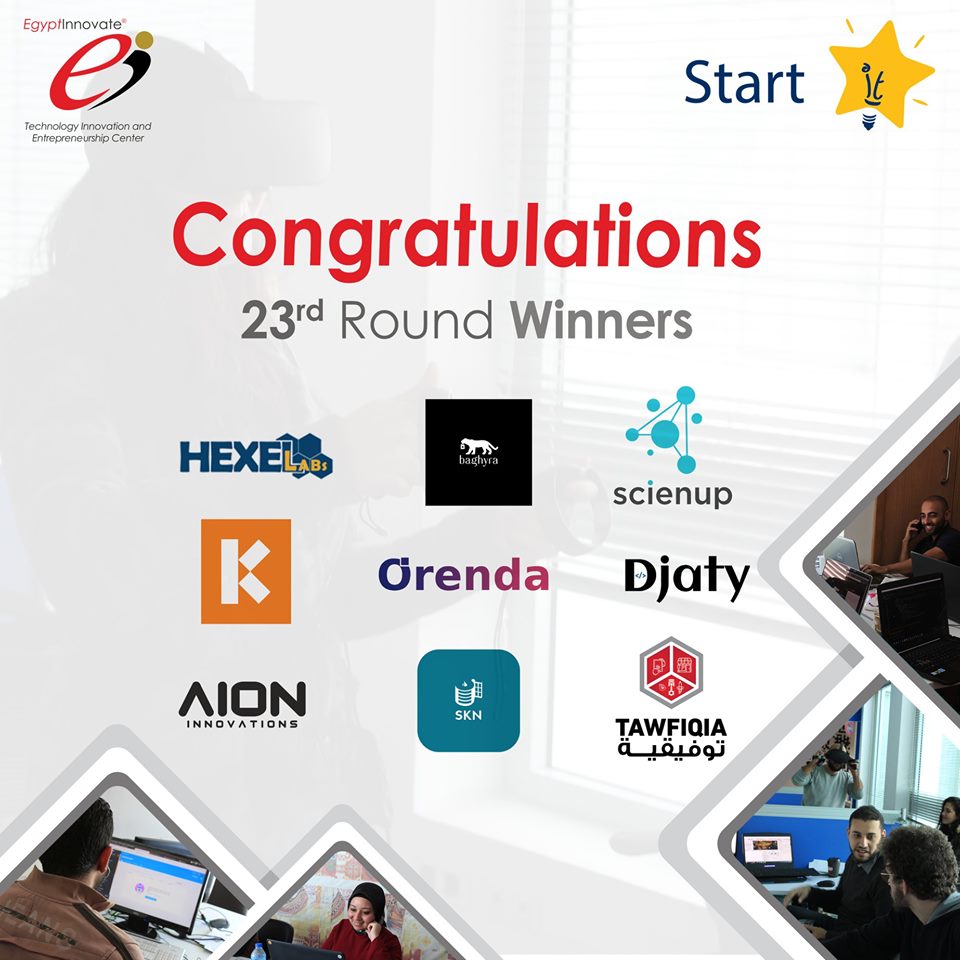 After a competitive and engaging process, nine startups were chosen to be part of the 23rd round of the TIEC Incubation program "Start IT". The one-year incubation journey begins now.
The startups chosen challenge different markets and industries ranging from product design to smart home solutions to science and research. However, what all the startups have in common is that they are all tech-enabled and provide valuable and innovative solutions to their customers.
The nine startups have competed among more than 100 other startups. For one whole year, these startups will enjoy a grant of 180,000 EGP with no equity, free and equipped office space, mentorship, financing, and networking opportunities.
The first startup chosen is Kemitt, a platform built for product designers from all over the globe, offering them the opportunity to sell their unique designs in new markets, risk and hassle-free while Kemitt handles all the manufacturing and shipping processes.
The second startup is Djaty, which provides a complete solution for testing, error tracking, reporting, and error fixing for software projects.
Next, there is the team behind Hexel Labs, a smart IoT enabler integrated system which converts any device to a smart IoT device like lights, curtains, fire fighting system, security cameras, intercoms, appliances, air conditioners, irrigation systems, etc.
Another startup chosen in the field of smart solutions is AION Innovations, that offers a whole smart home solution that allows the customer to access and control their entire house remotely through a user-friendly mobile application.
Next comes Orenda, a user-friendly platform that uses DevOps tools to enable individual developers, freelancers, startups and MSMEs to manage and maintain their VPS cloud instances/servers.
Moving to the sixth startup which is in the field of science and research, Scienup is a website for researchers and businesses who are looking to outsource experiments in the fields of science and engineering through a network of research institutes, universities, and private labs.
Next is Tawfiqia.com, an online marketplace that connects car owners with authorized and trustable car product suppliers. Tawfiqia.com connects all sides of the automotive market - car products importers/manufacturers, car maintenance centers and car owners.
Another winner is Baghyra.com which is an online marketplace for different online or offline fashion stores. It aims to avail the maximum number and variety of products on one website along with the most affordable prices. Using Baghyra.com, the end user is able to shop for different products such as accessories, beauty products, and fashion from different brands/stores (local and international) and pays a minimal delivery cost as if buying from only one shop.
Last but not least SKN, which is a marketplace and hospitality service brokerage company based in TIEC incubator in Assiut. SKN connects people who want to rent out their homes in Assiut governorate with expats, whether students or employees, who are looking for accommodations.
Submit Your Article Now
Send Your Feedback
EgyptInnovate site is not responsible for the content of the comments

View Egypt Innovation Map