With Just Two Days Left for Registration, Hack23 Empowering Students Innovator to Create a Sustainable Future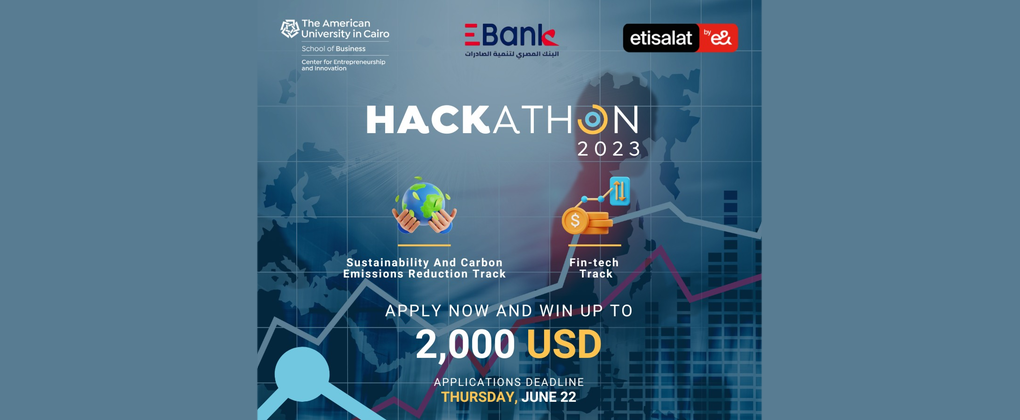 The Center for Entrepreneurship and Innovation (CEI) at AUC, in collaboration with Etisalat Misr and EBank, along with Fintech Egypt as the Knowledge Partner, announced the fourth edition of the annual virtual business plan competition, Hack23. With just two days left for registration, the competition invites national, regional, and international undergraduate university students from all majors to showcase their entrepreneurial skills and create innovative technological solutions for a sustainable, accessible, and resilient future.
---
---
Hack23 is a platform designed to empower students by providing them with the necessary knowledge, skills, and networks to tackle barriers and develop innovative solutions. The competition aims to foster social awareness among participants, enabling them to understand the needs of their communities and develop ideas that address emerging trends. By embracing design thinking methodology, the hackathon facilitates rapid solution development, community engagement, and access to coaching and mentorship, supporting participants in implementing crowd-sourced, people-centered solutions.
The Hack23 has two tracks as follows:
Track One Sustainability and Carbon Emissions Reduction: With the goal of minimizing the impact of climate change, this track focuses on innovative solutions that promote sustainable behavior. Students are encouraged to develop ideas related to plastic waste reduction and recycling, net-zero carbon emissions practices, climate change mitigation, overexploitation of natural resources, and energy efficiency.
Track Two FinTech: Recognizing the transformative potential of FinTech, this track encourages students to utilize financial technology in innovative ways. Participants can create FinTech-related solutions, make FinTech more accessible, safer, and convenient for all, and address issues such as digital financial inclusion, increasing Egypt's exports, Agri-FinTech, crowdfunding, peer-to-peer lending, and IPN infrastructure.
Key Dates for Hack23:
Applications Open: Thursday, June 8th
Application Deadline: Thursday, June 22nd @ 11:59 PM (Cairo local time) GMT+3
Training for Participating Teams: Sunday to Tuesday, July 2-4
Orientation: Sunday, July 9 @ 12:00 PM (Cairo local time) GMT+2
Competition Days: July 10-14
To be eligible for Hack23, teams must consist of a minimum of 2 and a maximum of 5 undergraduate students from any major or university. Interdisciplinary teams are encouraged to apply, and participation in the competition is completely voluntary and free of charge. For more information, frequently asked questions, and to register for Hack23, please visit the official website at www.hack23.com.
Don't miss this opportunity to make a positive impact and be part of the global movement towards a sustainable future. Join Hack23 today and let your innovation shine!
Submit Your Article Now
Send Your Feedback
EgyptInnovate site is not responsible for the content of the comments

View Egypt Innovation Map