Innovation Cluster Initiative...Join Now!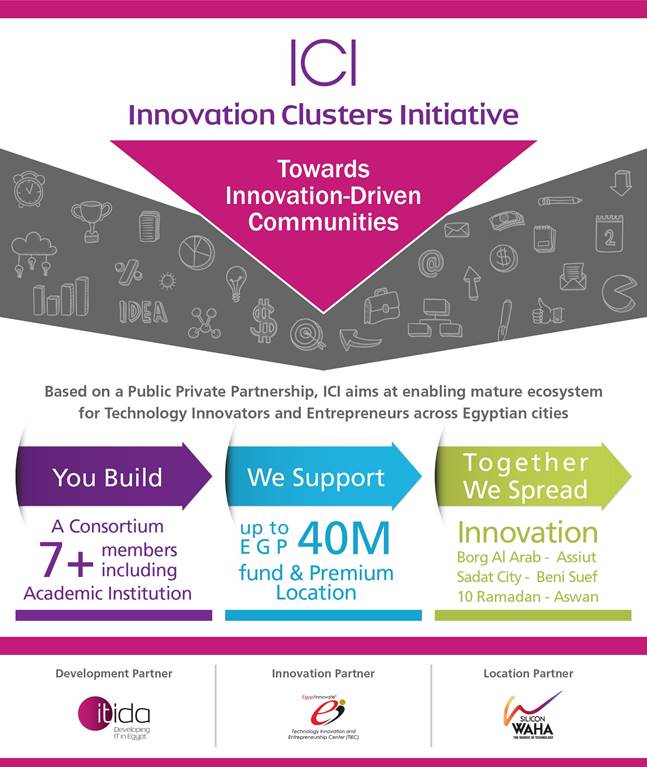 The term Silicon Valley refers to the well-known leading hub located in Northern California in the United States of America which is home to many of the world's largest high-tech corporations and thousands of startup companies.
Likewise, Silicon Waha is meant to spread science and technology parks across 2nd tier cities and provide the right ecosystem and attractive environment for innovators, entrepreneurs, local businesses, regional and international investors innovators, entrepreneurs, local businesses, regional and international investors.
Egypt is considered a primary destination for sourcing and IT services in Europe, Middle East and Africa region. It is ranked among top 10 countries around the world for launching start-ups, highlighting Cairo and Alexandria as start-up hubs (Forbes).
Egypt's high-tech ecosystem paved the way for the growth of IT and outsourcing business. The country relies on its abundant and multilingual pool of talents, competitive cost of operations, strategic geographic location and constant support to investors in setting up and developing their business, helping with incorporation, offering incentives, and facilitating work permits and technical approvals.
Silicon Waha, an Egyptian initiative, is a leading joint stock company that aims at creating a series of specialized business and technology parks across 2nd tier cities in Egyptian governorates. Its location in new cities nearby universities, with access to major national roads, rail networks, and principal international airports provides an excellent opportunity for small and medium size enterprises to flourish. Silicon Waha's technology parks are set in Borg Al –Arab, Sadat, New Assiut, Beni Suef, 10th of Ramadan and New Aswan cities.
Companies in the sourcing industry, as well as the electronic design and manufacturing industry, are welcomed to join the new hub, in addition to start-ups, to interact and support one another in order for ideas, technology and business to thrive. They are to benefit from a collection of high-quality facilities including a convention center, motels, banking services, schools and learning institutes, among others, within the technology parks with state-of-the-art infrastructure, systems, and equipment.
Recently, the Technology Innovation and Entrepreneurship Center, (TIEC), an affiliate to the Information Technology Industry Development Agency (ITIDA), launched an ambitious plan namely Innovation Clusters Initiative (iCi) to enable innovation and entrepreneurship through public–private partnership (PPP).
The initiative aims to create a network of innovation clusters (iCluster) within Silicon Waha's technology parks to enable innovation and entrepreneurship in ICT. Each cluster will specialize in a specific promising ICT-enabled sector creating new job opportunities and providing accumulated experiences. 
iCi targets MNCs, private and public academia, training centers, entrepreneurship support organizations (incubators, labs, accelerators, co-working spaces), technology-transfer offices, ICT NGOs, and VCs to join forces with ITIDA for establishing a mature ecosystem for Technology Innovators and  Entrepreneurs across Egyptian cities. The deadline for submitting an expression of interest is August 21st at 12:00pm.
Silicon Waha key stakeholders are the Ministry of Communications and Information Technology (MCIT), the Information Technology Industry Development Agency (ITIDA) and the New Urban Communities Authority (NUCA).
With high unemployment rates among young Egyptians, this initiative will create new job opportunities for youth in distant areas which enhance the sustainable development of various cities. With these plans in place, Egypt is set to become a multi-center offshoring destination and regional hub for ICT-based innovation.
Source: Ministry of Communication and Information Technology (MCIT)
Submit Your Article Now
Send Your Feedback
EgyptInnovate site is not responsible for the content of the comments

View Egypt Innovation Map