All it took an Egyptian to fly a drone is 11 failed startups: Meet Mohamed Ghaith, the founder of Drofie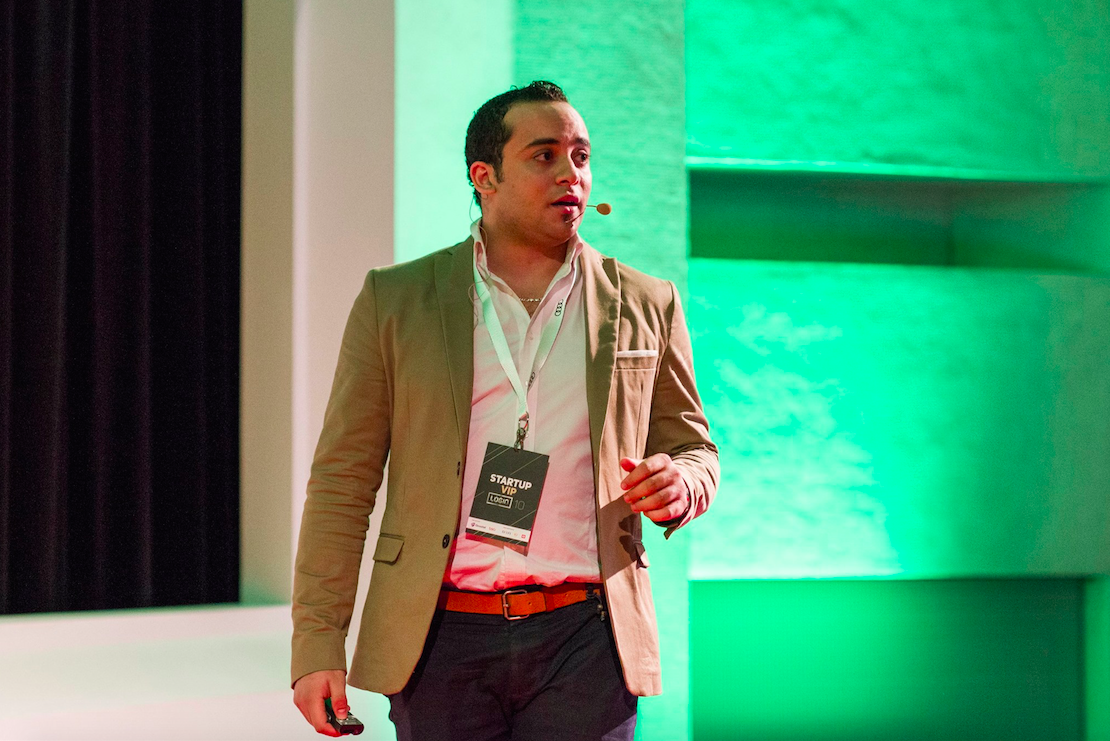 An Entrepreneur who left his family and friends in Egypt and moved overseas to Latvia, built several not very successful startups until he came up with the ultimate flying selfie stick the size of an iPhone.
Egypt Innovate interviewed Mohamed Ghaith, the founder of Drofie, a pocket-size selfie drone, about his journey from Egypt to Latvia, his company and his future plans.
Tell us more about yourself. When and how did you decide to leave your hometown and move to Latvia?
I was born and raised in Alexandria, Egypt. Ever since I was a teenager my passion was to establish a profitable business. At the age of 16, I started coding and sold my first code for EGP 110. That was my first revenue ever, actually, and was a large amount for me at the time. Internet cafes also bought my software in exchange for free internet hours. The code was a software timer which internet cafes used to be able to detect when their customers' slot was over.
During elementary school, I participated in many entrepreneurs' programs as well as coding competitions. After high school, though, I decided to move abroad. I took the decision and booked flights to, what was an uncommon destination at the time, Latvia. There, I studied Avionics Engineering at Riga Technical University and that's when my life shifted 180 degrees.
How did your teenage ambition inspire you to become an entrepreneur?
I was very driven towards starting my own business and becoming financially independent. That encouraged me to start self-learning and then founding almost 11 startups. Most of them reached decent numbers of users and satisfactory revenues. However, some of them were failures or, as I like to call, learning lessons.
Off the top of my head, I can name a few of these failures such as: "Yallamail.com" which was an email service provider like yahoo mail or Gmail. To be able to enact it though I learned a great deal in terms of coding. "Tweinty.com" was the first Egyptian social network back then. Back when Facebook launched I thought I might catch up with the flow and develop a local social network. I had around 1500 users but again it didn't work because I didn't have enough funds to keep renting the servers.
"Airfare-store.com", an online travel booking platform and "Fxcashbackpro.com" a cash back service, both didn't work too. "Fxcashbackpro.com" brought back some revenues but not enough to continue operating.
There were other projects along the way. The latest, "711.lv", is mainly a connecting network between customers and retails, a platform for all the discounts and offerings in the users' nearest shops. And finally, I decided to build Drofie, the first selfie drone.
Tell us more about Drofie and how it came to life?
As a drop out Avionics Engineer and a tech geek, I realized that there aren't any selfie drones manufactured that take fixed shots or photos on low altitude. The available drones in the market only record videos. Drofie is the world's first folding smart selfie drone camera for your pocket with an auto-follow feature mainly for fixed shots and panoramic views. Drofie is the size of an iPhone. You throw it in the air and it follows you wherever you go to capture your favorite moments.
Drones face many challenges security wise in many countries? How do you fight these legislations?
The FAA regulations state that any drone under 250 grams does not need a license. Drofie weighs only 140 grams. In some countries like Egypt, drones are not allowed to fly above 30 meters for it to be used as a personal gadget to capture your precious moments, not someone else's. As a team, we've worked for more than a year on research and prototyping a convenient product to be used by customers anytime, anywhere without having to worry about security issues.
Does Drofie have further applications other than entertainment?
Currently, we target the entertainment industry for photography and lifestyle. We've also been discussing military applications that can use the algorithms of our auto-pilot based on the stability that we were able to achieve.
How much did the prototype cost you? And for how much can your customers buy Drofie?
Our final prototype cost us almost $1000. Drofie will be available in the market for $349 - $399.
What is unique about entrepreneurship in Latvia? And how was the experience of building a technology startup there?
The ecosystem in Latvia is extremely active. The government is adaptive and cooperative with startups. However, the chances of raising a large investment, either from an angel investor or accelerator, are somewhat limited. So typically, most of the Latvian startups who've gone big have secured external funding from outside of Latvia.
In Latvia, you can register your company online, send and sign documents online and it all takes around 10 to 15 minutes. The minimum required capital is 1 Euro (10 EGP). Our startup capital was 10 Euros which is 100 EGP.
Where do you stand now? And how much did you raise so far?
As of this moment, we've won the race against 865 startups and made it to Switzerland for a Swiss accelerator securing 25,000 Swiss francs and 3 months of mentorship, guidance and prototyping. We are also honored to be one of the top 500 most promising early stage tech startups in the world during the Pioneers festival in Austria. We've invested $10,000 so far all as self-funds plus the 25,000 Swiss francs we've just received as funds.
What are your future plans for Drofie?
Soon we will launch our equity crowdfund campaign to raise $100,000 in exchange for equity in the company. This money will be used mainly to prepare for our Kickstarter campaign, create momentum and traction.
What's your advice for Egyptian aspiring entrepreneurs?
Don't start big. Start small, build small things and take it from there. Most importantly, learn to listen; don't get emotional when someone criticizes your idea or points out holes in it. Listen to everyone, anyone. You never know who's going to add value to your startup. The second thing is to never think of your startup as a one-man show. I've personally done this many times before and failed miserably. You need a team who is passionate about what you're doing to help you achieve your goal.
My Last advice would be, don't think of money and funding before you've even started. It's not too essential in the beginning. Robert Herjavec, the tech billionaire, and shark tank investor once said "Don't start a business. Find a problem, solve a problem, the business comes second."  And that's exactly what happened with Drofie, we solved the problem.
Submit Your Article Now
Send Your Feedback
EgyptInnovate site is not responsible for the content of the comments

View Egypt Innovation Map