You are here
Riding the Innovation Waves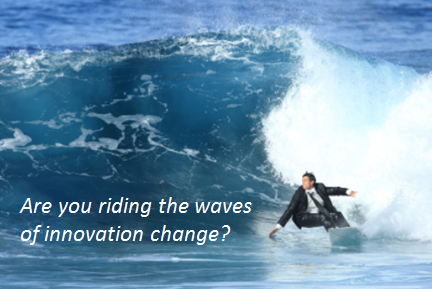 Innovation has been rapidly changing and much of its basics have been swallowed up by some defining issues that have raced up to the top of the innovation agenda and it is right to respond to these. There seems to be wave upon wave of new innovation thinking and if you are not careful it can drown you in a swirling sea of confusion.
So I took a step back and tried to define the different waves of innovation
We all get caught up in the excitement of 'breaking' practices
'Breaking' practices or new methodologies are much harder to master and advise upon, to determine clear positions and propositions.
The excitement of 'breaking innovation' is in the pioneering, experimenting, discovering, sharing and exchanging. If you are always open to this new thinking, it does enrich and advance innovation understanding and that makes it so valuable but so demanding. Many of them have been utterly enjoyable to explore.
Like most caught up in innovation I do get often caught up in the wave of new innovation, actually, I love it, it keeps the passion burning brightly in discovery, curiosity and intrigue, in learning, experimenting and exploring, as these are often the clients need to understand and evaluate against.
Doesn't the innovation needle keep shifting constantly?
Sometimes taking stock it does surprise you on how the innovation needle had been moved, again and again. This sometimes makes navigation sometimes difficult, you do need clear anchor points.
Often we were missing the constants required to 'set in place' innovation, those anchor points, otherwise, we often are simply increasing the layering on, more and more, not giving enough emphasis on how to integrate these into a newly emerging practice of innovation but recognising the essential basics that are constantly needed, irrespective.
The basics of innovation still form around building engagement, leadership, involvement, in constructing a culture, the climate and environment needed, so as to allow innovation to evolve. Then that constant investment in people, networks and relationships, that need to come together and, finally the structures, systems and governance that are flexible enough to make what we work upon as responsive, agile, adaptive, exploitive and exploratory, to end up with great new ideas, things and finally, winning successful concepts.
The shifts taking place around innovation have been significant in their impact
The shifts taking place has been hugely shaped in how digital transformation continues to grow in its importance. how it is influencing much that is surrounding innovation, as it continues to disrupt in faster, demanding ways, where it deconstructs and then we need to reconstruct our innovation thinking so as to gain from this transformation occurring all around us.
Also, there is this growing concern, actually it never went away, perhaps more enforced than ever today, over the issue of 'risk and return' as innovation becomes increasingly complex. As we push to increase the need to push for breaking out of many of our incremental innovation mindsets to tap into real growth opportunities, the pressures continue to build. More help is needed here to make these more of a robust risk / return structure that 'accounts' for all the uncertainty in new innovation development.
We seem to be stumbling towards breaking out our innovation activity in more radical, distinctive and adaptive ways. We are certainly treating innovation differently, depending on the sense of opportunity and the desire to work towards the solutions these need. You see progress but it still seems maddeningly slow as dedicated innovation resources are still very 'thin' on the ground.
Other real changing forces influencing innovation
The other real forces of innovation change in this relatively short period, have come from a greater explosion of Lean Management principles and incorporating Design thinking into our work, both being rapidly embraced within our organisations, large and small. How these are fully integrated remains a challenge for most.
Then you have the emergence of platform and ecosystems to build around, the continued onward movement of crowdsourcing and all the variations (or derivation's) of 'crowd' and co-creation', combined with all the ramifications of the network and relationship building effect we need to leverage. It is this 'raw' power of technology that is transforming much,
It is this 'raw' power of technology, pushing the flow of knowledge and exploiting the different social mediums that are swirling around us, with many suggested designs and frameworks that need deeper capture and translation to extract new value.
We all need to think through the value of the pivot, prototype, the constructing of minimal viable products and rapid experiment and design. Then we have the growing value of experimental labs and establishing 'pockets' of entrepreneurs-in-residence, both have increased in focus.  We are learning faster, shutting down what does not work as we go, adapting faster than before our innovation concepts, by being engaged and constantly informed by customer needs.
It has moved well beyond the "how" into the "what, why and where". The "when" still is subjected to different levels of impatience it still seems. Speed is dominating at present then "Scale" and the constant worries over the "Execution" of the new value proposition.
The attraction of riding the new wave
Yet it does seem to me many innovators within the business organisation do simply miss the basics within their own thinking or organisation and fail to fix these. They keep moving on, restless, wandering the innovation plains looking for these new feeding grounds but are they just feeding themselves, or actually failing badly in feeding all those 'left on the reservation' that make up the larger organisation? Not securing their futures by sustaining the innovation forces, seeing innovation as their personal adventure and not a sustaining organisational one?
Those that do pay attention to the basics in innovation and its management become so much better placed to be the disruptors. Why, simply because they have their people's engagement and identification as central to their innovation activity, they know the basics, they have experimented and learnt, they make the connections they get it, and they work it to shape it. Just like the potter at a wheel, innovation is like clay, temperamental; it has a tricky relationship of the shaping, defining, applying lots of practice to get just right with plenty of practice and some 'learning' from failure.
So am I cresting or riding the different waves? What is the difference?
It can be a dangerous assumption that we 'think' innovation is well understood; often it is not, it continues to be a serious source of frustration and disappointment, at all levels. This 'fixing the basics' still needs a clear focus to resolve, to forge a pathway for others to understand. It needs a constant balance between extolling the old, exploring the new.
It is all about the blending practice, taking each wave as it comes to see how far you can ride it. Riding or cresting the waves, each is actually a lot of fun!
Become a leader
Send Your Feedback
EgyptInnovate site is not responsible for the content of the comments

View Egypt Innovation Map