You are here
ITU Global Innovation Forum 2020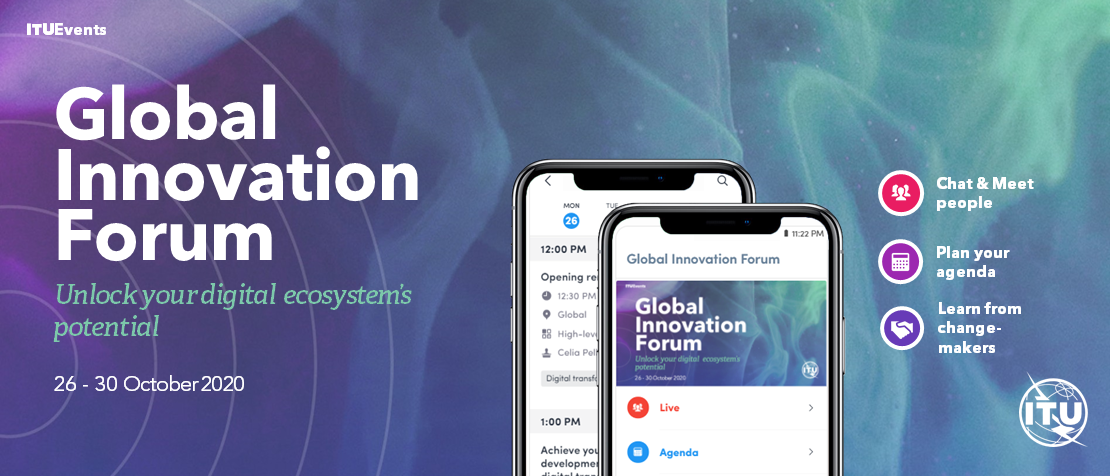 26
Oct 2020
To
30
Oct 2020
City
Event Details
ITU is hosting the 2020 edition of ITU Global Innovation Forum, from 26 to 30 October, focusing on mainstreaming competitive digital innovation ecosystems in the age of COVID-19.
The event is a five-day immersive programme that will take the participants on global and regional learning journeys to prepare them to accelerate digital transformation in their communities.​​​​​​
​Day 1 will highlight the challenges to meeting digital transformation ambitions and the roles and challenges of an ecosystem.
Day 2 will provide new insights about mainstreaming entrepreneurship and demystifying resource requirements for your ecosystem.
Day 3 will focus on the power of success stories and building communities that fuel innovation and start-up cultures.
Day 4 will bring a regional dimension with insights about how digital innovation policies monitoring and good practices that can be amplified.
Day 5 will bring everything through the lenses of change-makers to explore how to bring resources owners, problem owners and solutions owner together for greater digital inclusion.​​
Each day is structured into three key tracks for maximum learning by participants:
A high-level dialogue track will provide key insights through dialogues and keynote presentation about nurturing digital transformation, innovation and entrepreneurship;
An ecosystem track will deliver practical power sessions to equip participants with skills, tools and knowhow in nurturing an environment conducive to digital transformation; and
A networking and digital experience track will provide attendees with opportunities to experience our digital communities and network with change-makers.
---
Register Here.
---
Learn more about sessions
Audience
ITU Global Innovation Forum 2020 is targeted at digital change-makers, policy-makers, the private sector, academics, entrepreneurial support organizations, entrepreneurs, financiers, community development ​managers, international organizations and media. All core sessions will be available in the six languages of the United Nations.
Objectives
The Global Innovation Forum will empower participants with new approaches, insights, tools, frameworks, communities and relevant case studies to understand how to mainstream sustainable ecosystems that accelerate digital transformation.
Cost
Website
https://www.itu.int/net4/CRM/xreg/web/Login.aspx?src=Registration&Event=C-00008629
Add To Your Calendar
Send Your Feedback
EgyptInnovate site is not responsible for the content of the comments

View Egypt Innovation Map