You are here
The First Virtual Event For Scaling-Up Mediterranean Startups Through Covid-19 & Beyond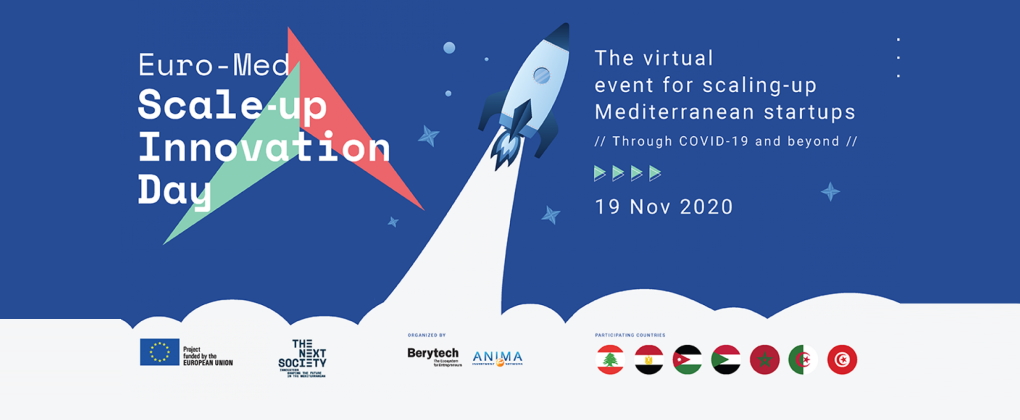 Event Organizer
BERYTECH & THE NEXT SOCIETY
City
Event Details
Join 1,000+ of the region's most entrepreneurial minds who will exchange knowledge and support, forge new partnerships, and scale-up across the European and Mediterranean markets against all odds.
6+ hours of power talks, success stories, discussion panels, growth workshops, virtual exhibitions, and live networking will uncover endless insights and opportunities to navigate the challenging COVID-19 pandemic, adapt participant's growth strategies, access funding, and grow.
---
Get your ticket now and join online on November 19, 2020 by Registering Here
---
Audience
Startups, organizations, corporations, investors, businesses, and professionals.
Objectives
TO LEARN
about the key technologies and industry trends that are reshaping the business world and tap into new post-pandemic strategies to grow your venture, access international markets, and thrive in a challenging world.
TO CONNECT
with industry leaders and professionals, network with fellow startups, explore potential collaborations, attract investors, access funding and grant opportunities and secure deals in the Euro-Med region
TO ACCESS
international business support, funding, and soft-landing programs as well as major European and Mediterranean firms looking for building strategic partnerships and corporate deals.
TO PROMOTE
your business across the Euro-Mediterranean network of industry leaders,  entrepreneurship ecosystem players, and investors  through the virtual startups exhibition and the event's matchmaking platform. 
‏
Cost
Website
https://berytech.org/events/euro-med-scale-up-innovation-day
Add To Your Calendar
Send Your Feedback
EgyptInnovate site is not responsible for the content of the comments

View Egypt Innovation Map