You are here
Bill & Melinda Gates Foundation, AWS and Egypt's MOIC to Headline AWIEF2022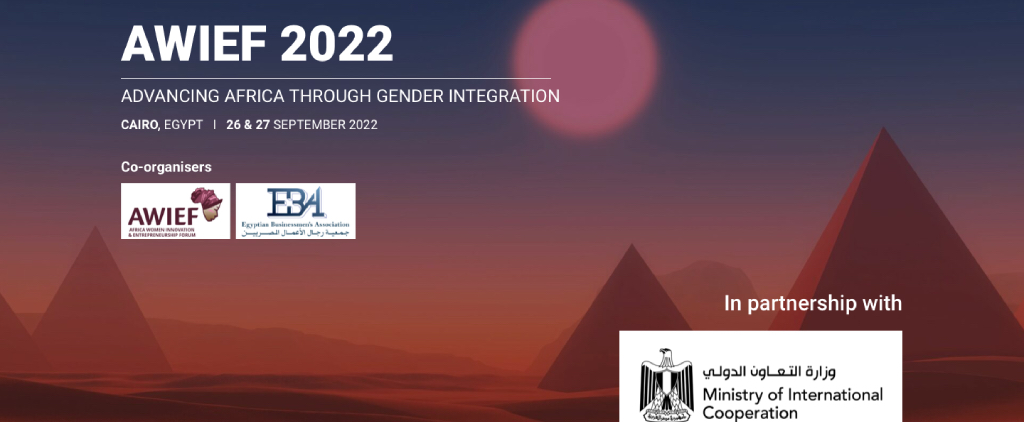 26
Sep 2022
To
27
Sep 2022
Event Organizer
Africa Women Innovation and Entrepreneurship Forum (AWIEF)
Event Type
Pitching / mentoring / investment days
City
Event Details
Egypt's Ministry of International Cooperation, Bill & Melinda Gates Foundation and Amazon Web Services to headline AWIEF2022 Conference and Awards
More than 60 African and global thought leaders and industry experts across business, international development and government are set to share insights and thought leadership at AWIEF's prestigious and benchmarking annual conference and awards taking place on 26 and 27 September on-site in Cairo, Egypt, and virtual.
The conference theme this year is Advancing Africa through Gender Integration. The two-day event aims to promote and accelerate MSMEs and SMEs growth for Africa's inclusive economic growth and brings together the African entrepreneurship ecosystem for discussions on entrepreneurship, leadership, technology and innovation, sustainability, intra-African trade, finance and investment, energy and infrastructure, and agriculture and food security.
CLICK HERE TO REGISTER: https://www.awieforum.org/awief-conference-2022/
The powerful and high-level global speaker faculty for AWIEF2022 includes:
H. E. Dr. Rania Al-Mashat, Minister of International Cooperation, Egypt
 
Damilola Ogunbiyi, Special Representative of the UN Secretary-General & CEO for SE4ALL and Co-Chair of UN-Energy
 
Solomon Quaynor, Vice-President for Private Sector, Infrastructure and Industrialization, African Development Bank Group (AfDB)
 
Elena Atanasova Panova, UN Resident Coordinator in Egypt
 
Sherif El Gabaly, Member of Parliament (MP) and Chairman of the African Affairs Committee in the Egyptian Parliament
 
Hon. Bogolo Kenewendo, Former Minister of Investment, Trade and Industry, Botswana
 
Ayoade Alakija, WHO Special Envoy for the ACT-Accelerator and Co-Chair of the African Union's African Vaccine Delivery Alliance
 
Jackie Jones, Director and Chief of Staff, Gender Equality Division, Bill & Melinda Gates Foundation
 
Dina Saleh, Regional Director, Near East, North Africa, Europe & Central Asia, IFAD
 
Uzoma Dozie, Founder and CEO, Sparkle Digital Bank, Nigeria
 
Ali Eissa, Chairman, Egyptian Businessmen's Association (EBA)
 
Patricia Obozuwa, Vice President, Government Affairs, Communications & Sustainability for Africa, The Coca Cola Company
 
Izabela Milewska, Digital Skills Global Leader, Amazon Web Services (AWS)
 
Dalia Ibrahim, Chief Executive Officer, Nahdet Misr Publishing House and Founder of EdVentures
 
Amany Asfour, President, Africa Business Council
 
Chinyere Almona, Director-General, Lagos Chamber of Commerce and Industry (LCCI)
 
Marieme Esther Dassanou, Manager, Affirmative Finance Action for Women in Africa (AFAWA), African Development Bank Group (AfDB).
Check the full speaker line-up here
Who should attend
Government representatives & policymakers
International Development partners
International Organisations/UN Agencies
Entrepreneurs/start-ups
Investment & financial sector
Business service providers
C-suite level corporate professionals
Persons interested in Africa & International DevelopmentDiplomatic sector
CSOs & NGOs
Media
Academia
Join as a sponsor and partner
AWIEF2022 provides a conduit to quality buyers from key multi-industry sectors gathered from across Africa and beyond. By joining us as a sponsor and partner, you will raise the recognition of your company and promote your brand to an untapped Africa-wide audience demographic which offers huge business opportunities. Connect with our highly engaged participants, take advantage of targeted marketing and measure the ROI of your investment with our analytics capabilities.
For more information on AWIEF2022 sponsorship and partnership opportunities, email [email protected] or [email protected]
Exhibit at AWIEF2022
Come and showcase your work, businesses, products or services, projects, innovation and technologies at AWIEF2022 on-site at the Cairo Marriott Hotel. 
AWIEF2022 also offers a perfect virtual platform to promote and showcase your business, products or services, projects, innovation, solution, and technology to a pan-African and international professionals and business audience, getting you set to leverage and access opportunities unleashed by AfCFTA.
For more information about our on-site and virtual exhibition opportunities, email us at [email protected]
REGISTER AS A DELEGATE (INTERNATIONAL)
REGISTER AS A DELEGATE (EGYPT)
Cost
Cost:
Physical:- 1000 L.E Virtual:- 200 L.E
Add To Your Calendar
Send Your Feedback
EgyptInnovate site is not responsible for the content of the comments

View Egypt Innovation Map