You are here
Get Inspired
Assistive Technology
Assistive Technology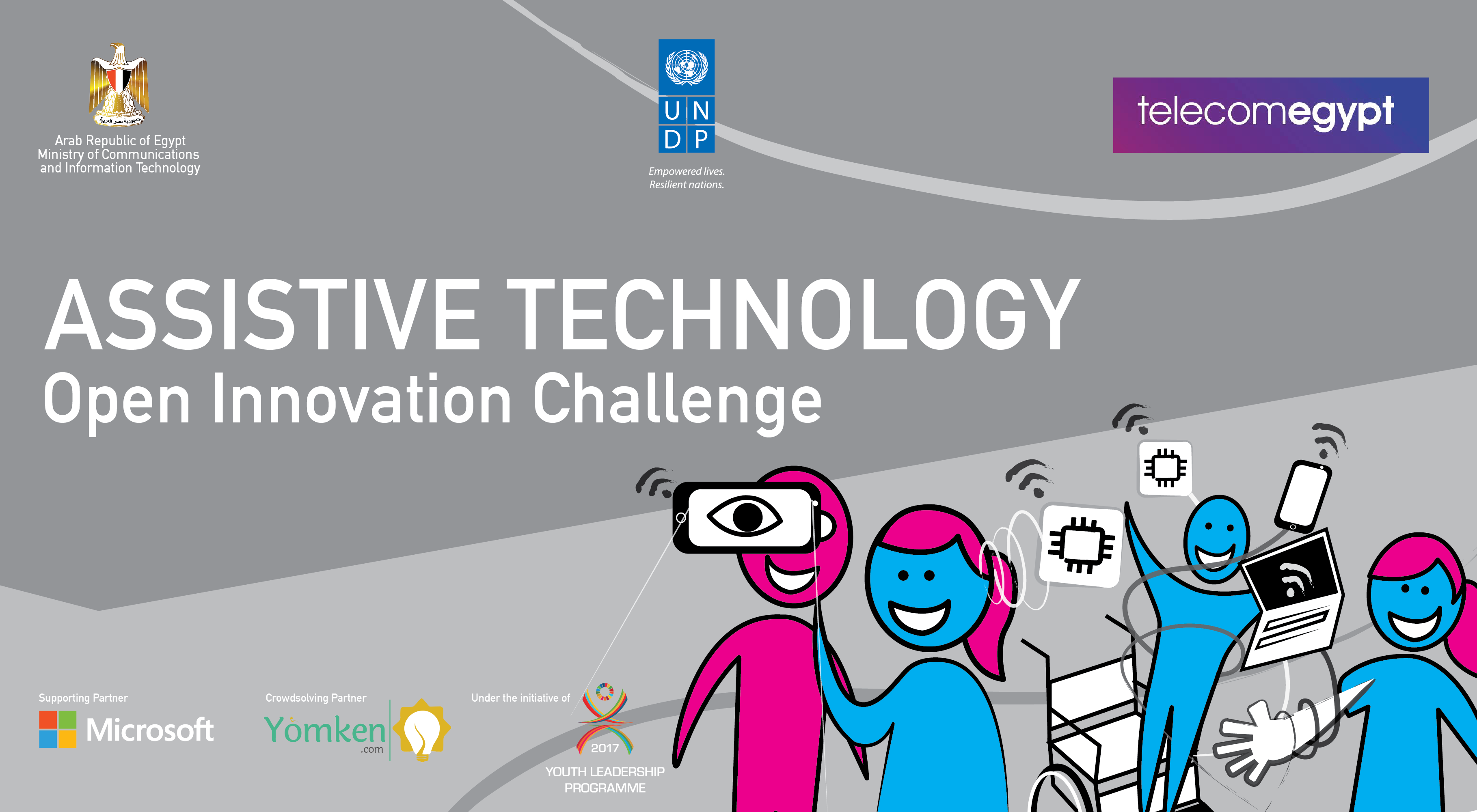 Problem
In the past decade, the technological advancement and internet accessibility have allowed for the concept of connecting everyday objects to the internet to become a useful reality. We believe it is time for youth to start taking actions to integrate Assistive Technology in general, i.e. any device, application, equipment, product or service, and Internet of Things (IoT) as means of supporting persons with disabilities, be it hearing, visual or mobility impairment. Hence, innovative solutions to tackle this issue is much needed for millions of Egyptians to be recognized in the public realm and empowered to live better lives. UNDP Egypt in partnership with the Ministry of Communication and Information Technology, Telecom Egypt, Microsoft Egypt and Yomken.com (www.Yomken.com) are launching this Open Innovation Challenge as part of the Youth Leadership Programme (YLP) initiated by UNDP Arab States, which aims to support young change makers to create innovative, impactful and sustainable solutions.
For more information and to apply Click here!
Requirements and Constraints
This challenge looks for innovations that use Assistive Technology to solve problems and improve the quality of life of people with disabilities in one of the following themes: Accessibility: Public spaces and transportation. Education: Educational tools for people with disabilities. Employment: Skills development and access to employment. Health and early intervention: Basic health care services and early intervention to prevent disabilities. Who Can Apply? You must apply as a team with at least 3 members. Applicants must be between ages 19-35. Teams with female members are highly encouraged to apply. Selection Criteria: Impact; including accessibility, affordability, and long-term sustainability of the solution. Innovation level. Clearly defined target users and customers. Commercialization potential. Team diversity and skills.
For more information and to apply Click here!
Expected Deliverables
Conditions: A matured prototype (a well-tested prototype is not required but highly recommended). Clear use of Assistive Technology, the Internet of Things is a plus. The solution directly targets the PWDs population under the following sub-themes: Accessibility of public spaces and transportation. Education. Employment. Health and early intervention. The solution is in Arabic or has an Arabic version.
For more information and to apply Click here!
Reward
Awards Bootcamp: Intensive training on Assistive Technologies, Internet of Things, Business, Marketing skills, Design Thinking and Pitching. Mentoring: one on one sessions with experts. Regional Social Innovation Event, hosted by UNDP Arab States: 5 team representatives will be selected to travel. Mobile World Congress in Barcelona 2018: 3 team representatives will be selected to showcase their solutions.
Target Business Relationship
Technical cooperation
Deadline
Saturday 30 Sep 2017
Owner
Submit Your Challenge Now
Send Your Feedback
EgyptInnovate site is not responsible for the content of the comments

View Egypt Innovation Map