RISEUP '15 makes the leap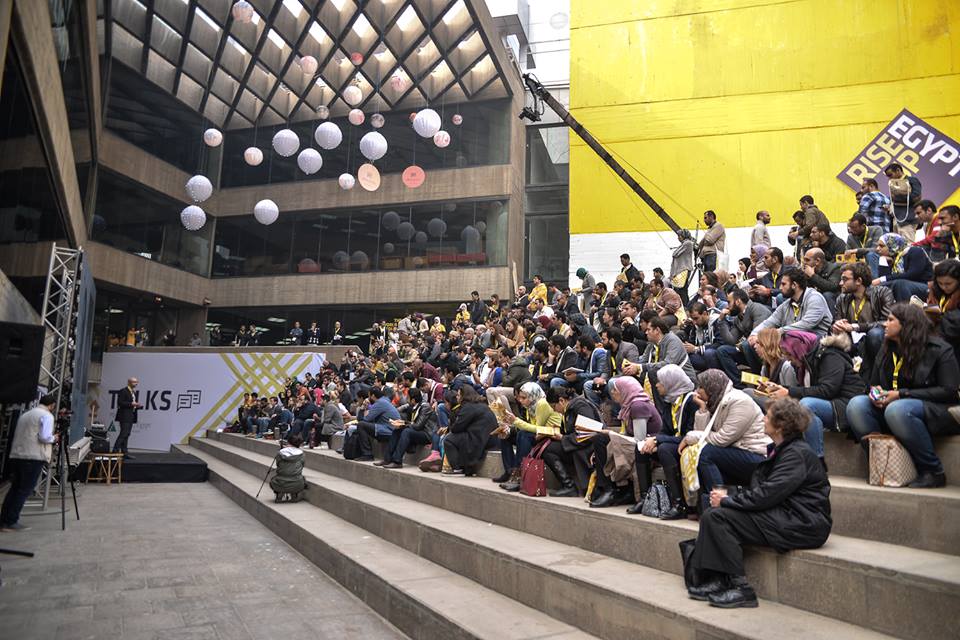 In Downtown Cairo, the 3rd RiseUp summit took place in a gloomy-dreamy weather that you can't help but love.
This year's slogan was "Quantum Leap", a physics term that describes a transition an electron makes inside the atom where it moves to a greater energy state. We believe that in a sense, it was a quantum leap, the way RiseUp took entrepreneurship events in the region to a whole new level.
It's not that the event took place over 4 venues, welcomed almost 4,500 attendees including entrepreneurs from 25 countries from the whole MENA region and the world, heavy-weight investors, CEOs and experts from the likes of Dave McClure, Ahmed AlAlfi, and Ameer Sherif. It's not that global giants like Microsoft, Google, Uber, Intel, Amazon were there. It's not that the event featured 60 workshops, 36 panel discussions, 30 talks and multiple pitch events. It's the combination of it all plus heavy falls of enthusiasm, inspiration and opportunities flying around with the pouring rain.
Here we try to capture some of what makes RiseUp this year a real attempt at being a world class event and why you should definitely get an early bird ticket next year.
In it for the money?
RiseUp certainly opened a lot of doors for startups looking to get funded, with the presence of investors from 500Startups, Vostok New Ventures, Y Combinator, Intel Capital, Flat6labs and many others.
In Seedstars Cairo, among 12 finalists, 3 startups (Kotobna, Solarize Egypt, and ABM) made it through the pitching battle and were invited to compete in Switzerland for at least a US$1.5 million in investment.
Things got a lot interesting afterwards in 'Get In The Ring', the competition organized by Flat6Labs. Startups literally faced off against each other in the ring, in front of a jury and an audience of potential investors, we were there to capture the triumphant startups during their Mohamed-Ali-Moment of glory. 
Also, it was kinda empowering that the regular audience got a chance to support some of the exhibitor startups with fake money! Well, not really. In their crowdfunding on the fly competition, Tennra, the crowdfunding magic-makers, provided attendees with "Tennra money" inside the giveaway bags. Startups then had to convince people to give them their Tennra money in order to get one thousand dollars from Tennra themselves.
We should also mention that we especially liked Uber's pitch N' ride. An entrepreneur rides with an investor in a fancy limousine that takes them around Tahrir Square, he gets the time of the ride to pitch his startup to the investor and try to dazzle them with your idea.
Open up, learn, inspire and get connected
Who wouldn't like to get exposed to such a fascinating mix in just two days? Was it illuminating to get to discover the ecosystem of countries like Jordan, Morocco, Tunisia, UAE and Kuwait and meet their delegations in the summit? Yes. Did we enjoy the talks, panel discussions and workshops provided by names like Google, Microsoft and Uber along with experts like Michael Megalli and Ramy Alkarmi and Inspiring thought leaders like Ali Farmawy and Fadi Ghandour sharing knowledge and experiences? definitely.
The exhibition featured startups of every industry from the food industry to space, reaching out to potential customers and investors and parading to the local and global media covering the event. We'd like to remember Amer Yaghi, the fourteen-year-old with two mobile apps and an impressive presence that we stood in admiration watching him talk about his app to Mike Butcher.  
The UX clinic is a software design solutions startup which took advantage of the fact that most exhibiting startups were mobile apps, and offered to give their software a free consultation.
Some of the highlights we ought to mention:
Kijamii had some interesting insights from their analysis of the Egyptian market that we were exciting to find out about. Did you know ‪Cairo occupies the first place among cities of the world in streaming on SoundCloud?‬
It's noteworthy that Wuzzuf had five workshops on the agenda, these guys are going places.
The US embassy announced that they're launching two programs of 45 million dollars to support entrepreneurs, details to be revealed later.
Google announced that they will provide most of their services in Arabic by the end of the first quarter of 2016.
Uber is now a 60 Billion dollar company. Enough said!
For the fun and frolic of it all
Folks with a sweet tooth got to post an idea and get a bag of Haribo. 
Spotted at RiseUp: Mohamed El Dib from Monkeys In Tuxedos 
Drop everything and join a band and sing your lungs out:
Startup Band gave way to musicians, vocalists, songwriters, composers, sound engineers to 'join forces' and shake the stage with their talent.
Autostrad played their famous hits.
Fifth Dimension (5D) Agency feasted our eyes with a cosmic cool light projection show at the closing ceremony. check the video on Instagram here.

They made it all logistically possible
We really liked the vibrant yellow theme color, from the giveaway bags to the gift items, name tags, floor sticker signs and the large painted wall. The color brought much energy to the whole event. 
They say little details go a long way. It was a relief to find Mobinil's charger cabinet when our batteries almost died from all the selfies we took. The internet coverage was definitely  a bless (hats off!).
We should also praise that despite the rain, relocating the talks and panels went quite smoothly with no considerable delays in schedule. Glasses be tipped to the helpful app that kept us oriented to time and place amidst all the haste, which reminds us to ask the organizers to maybe give us some more time gaps between slots on the agenda? Not that we don't enjoy running around or anything but just to get a quick bite or some coffee maybe? thanks!
So did you visit RiseUp this year? What do you think? Did we come off as too eagerly enthusiastic? Well we somewhat meant to, or maybe it's dreamy weather.. anyway, you can check out the photos and videos and decide for yourself.
Submit Your Article Now
Send Your Feedback
EgyptInnovate site is not responsible for the content of the comments

View Egypt Innovation Map