RiseUp announces Pitch by the Pyramids winners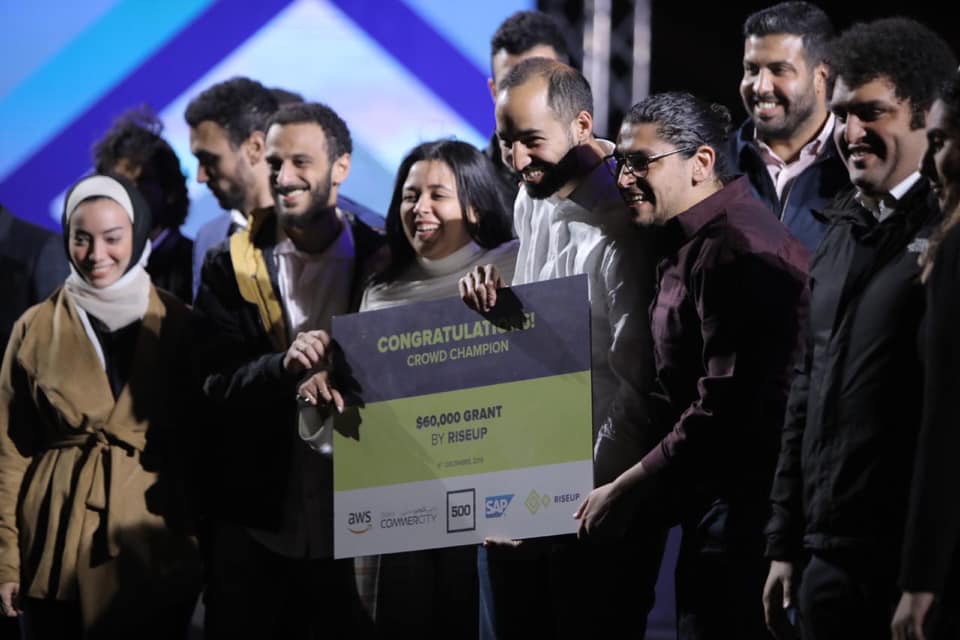 Source: press release
RiseUp announced the winners of its first multi-stage, regional startup pitch competition, Pitch by the Pyramids, at the Great Pyramids of Giza on the 8th of December, in alignment with RiseUp Summit 2019. The Crowd Champion - namely the startup that received the most online audience votes - was on-demand personal assistant Yanzo from Dubai, walking away with $60,000, while cloud HR and payroll platform Paynas from Cairo won $50,000 from early-stage venture fund and seed accelerator 500 Startups, subject to due diligence.
Mobile app platform for digital receipts Receet Inc. from Ramallah and non-food purchasing service for hotels, restaurants and cafes CloudSale from Beirut received VIP tickets to Dubai Expo 2020 provided by SAP Egypt, as well as a one-year rent-free lease on office space in Dubai through the Dubai Airport Free Zone Authority (DAFZA).
Energy management internet of things (IoT) system provider Amjaad from Cairo also received a VIP ticket to Dubai Expo 2020 from SAP, while the remaining 10 startups won regular invitations to Dubai Expo 2020.
All 14 participating startups also received credit worth $2,000 from Amazon Web Services (AWS).
The judges of the competition were Partner at 500 Startups Hasan Haider, Managing Partner at H.O.F. Capital Onsi Sawiris, Chairman and Cofounder of Global Catalyst Partners Kamran Elahian, Cofounder of Accelero Capital Karim Bichara and Founder and CEO of Kamelizer Hanan Abdel Meguid.
Prior to Sunday's final event, finalist startups were assigned a relevant expert mentor with experience in their industry to support their development throughout the competition.
The finalists pitched to an invite-only audience, including local and regional venture capitalists and investors, as well as an extensive media presence that guaranteed wide regional exposure for the up-and-coming businesses.
"We are excited and happy to know that people like our product and that we are on the right path. We cannot wait to disrupt the market and change the world," Vice President for Business Development at Receet Inc. Dina El Titi commented.
"The feeling after the hard work and seeing that this is appreciated cannot be put into words, and there is a lot more to go. I would like to thank RiseUp and everyone for giving us this opportunity," Cofounder of Yanzo Mohamed Jaafar said.
"Pitch by the Pyramids is a concept we've been looking forward to for years - and today, the idea finally came to fruition," Cofounder and CEO of RiseUp Abdelhameed Sharara said. "It all started with a dream to connect ancient innovation with future innovation. Out of almost 1,000 applicants, 139 startups participated and 14 pitched here today."
The competition launched qualifiers in 8 startup ecosystem hubs (cities) across the Middle East and North Africa, converging for the final event. Regional partners from each of the startup ecosystem hubs - Cogite Coworking space in Tunis, Wamda in Dubai, Social N' Tech in Amman and Ramallah, The Space in Riyadh and Startup Grind Beirut - organized local qualifier events for selected startups to compete, selecting the best, most innovative startups to proceed to the finale. The final qualifier round was held in Cairo. 
RiseUp Summit 2019 convened from December 5-7, hosting four main stages: Tech, Capital, Creative and Growth. Collectively and throughout the three days, RiseUp Summit 2019 hosted 8200 attendees, 290 startups, 200 workshops, 400 investors and over 300 speakers.
Submit Your News Now
Send Your Feedback