Only 1 Day to Register for MENA Blockchain Virtual conference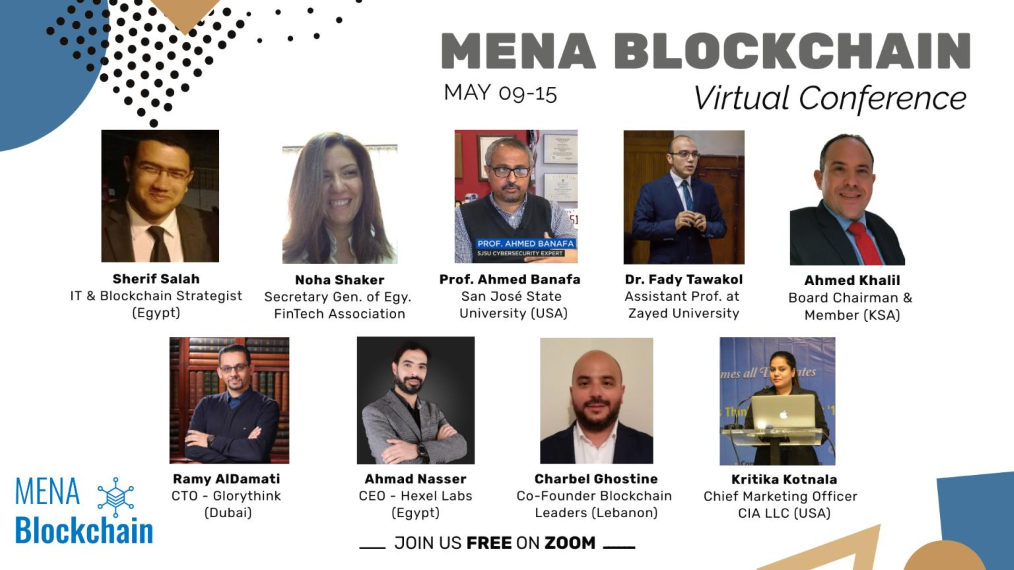 MENA Blockchain Virtual conference (May 2020) will bring this year together key industries across the MENA region for 8 days of top-level content and discussion across different Online Sessions covering Blockchain Technology and its different Use cases. The Conference will address the Cyber security & Legal Challenges for this new disruptive technology. Finally, the conference will discuss the potential and challenges of starting a business in Blockchain in Egypt, and how to start your career here. 
The Conference is mainly organized by MENA Blockchain Institute, it's an Egyptian training, education and research provider in Blockchain technology and FinTech in MENA region Founded in 2018. They are partner with organizations and individuals to address their unique needs, providing training and education workshops on Blockchain technology and its various applications in banking, healthcare, supply chain, Human resources..etc.!
Here is the Conference Agenda:
Blockchain Foundations Session
Blockchain For Business & Impact of COVID19 Session
Blockchain Uses Cases Session
Blockchain for Developers Session
Legal Challenges for cryptocurrencies Session
Security Challenges for Blockchain Session
Vechain, Ripple, and Blockchain Suggestions for Egypt Session
The potential and challenges of starting a business in Blockchain in Egypt
Blockchain Certifications Session
The Conference will be from 9 May to 16 May, and due to COVID-19 crisis, all the sessions will be delivered online on ZOOM. The Conference is open for registration for Free till 7th  May through this link. Follow conference activities here.
Submit Your News Now
Send Your Feedback