1864 Hackathon FinTech. Accelerator: The First Seminar Between The Leaders Of Different Financial Sectors To Support Entrepreneurship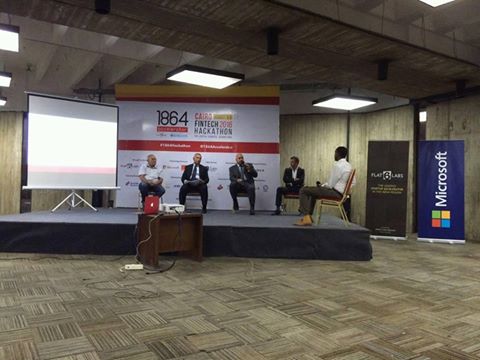 Yesterday, 1864 Hackathon Business Accelerator has just started in The Greek Campus and it will last until Saturday evening. Mr. Tarek El Refai, General Manager of Barclays Bank , and Mr. Sherif El Sanadeli, Head of Department of Development in Microsoft, have delivered the speech in the Hackathon's opening.
Mr. El Refai's speech was about the importance of Finance Technology nowadays, while Mr. El Sanadeli's speech was about the services and tools that Microsoft provides to entrepreneurs in order to help them achieve their ideas.
Mr. Tamer Kashef, Director of Card Business Head in CIB, Mr. Ezz El Din Ahmed, CEO of DoPay and Mr. Noel Chateau, Orange's Head of Customer Experience, had attended and talked about the changes in the finance department and its linkage to technology.
1864 Hackathon consists of eight different challenges, the first challenge is your idea , the second one is the small investment, the third one is Self-market investment, the fourth one is a financial Tracker to the small projects, the fifth one is online chatting for finance technology, the sixth one is the investment gifts, the seventh one is Saving and Credit Association while the last challenge is Financial management for AI.
Participants are going to choose their team and work on their idea. First place winners will get a 10,000 LE as a reward, second place winners will get mobile phones and tablets while the third place winners will get a voucher from Virgin Megastores worths 5000 LE. 1864 Business Accelerator will start its first round on 18th of September.
Submit Your News Now
Send Your Feedback