You are here
Learn
Mohamed Hossam Khedr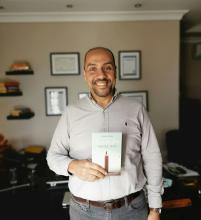 Mohamed Hossam Khedr Business Consultant at Khedr We Business, Author, CEO of Internet Plus
Biography:
Business Consultant at Khedr We Business, Author, CEO of Internet Plus
He is the founder of Fatakat forum and other companies that had successful exits as well as others that did not. He is the author of "رائد الأعمال Inside Out" book, the CEO Internet Plus for more than 22 years, the founder of Ratteb and a business consultant at خضر و بزنس [Khedr wa Business].  
Education:
He graduated from the Faculty of Engineering at Cairo University in 1997, and got a diploma in Marketing Management from The British Institute, followed by an MBA from The Arab Academy for Science, Technology & Maritime Transport.
Areas of expertise:
ريادة أعمال، استثمار