You are here
Product Innovation in the Textile Industry in Egypt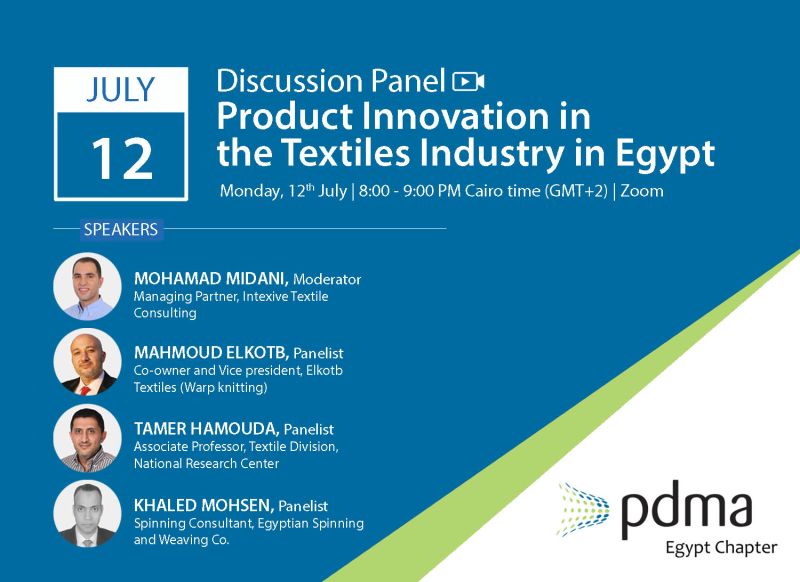 City
Event Details
PDMA Egypt Chapter will hold a live discussion panel on the state of Product Innovation in the Textile industry in Egypt on Monday, July 12th at 8 PM Cairo time. A group of experts in innovative textile products will share their experiences and answer the following questions:
3. How are opportunities identified and how new product concepts are created?
4. What are the technical challenges to product development in the textile industry?
5.  What are the examples of innovative textile products developed in Egypt?
6.  What's the future expectation of product innovation in the textile industry?
Panelists will include Mahmoud Elkotb, Co-owner and Vice president of Elkotb Textiles Co. (warp knitting), Tamer Hamouda, Senior researchers at the textile division, National Research Centre (NRC), and Khaled Mohsen, Spinning expert and consultant, Egyptian Spinning Co.
Mohamad Midani, Ph.D. managing partner of inTEXive consulting will moderate the session.
Register Here.
Cost
Website
https://www.eventbrite.com/e/161895573017
Add To Your Calendar
Send Your Feedback
EgyptInnovate site is not responsible for the content of the comments

View Egypt Innovation Map