You are here
The Catalyst Empowerment Summit 2022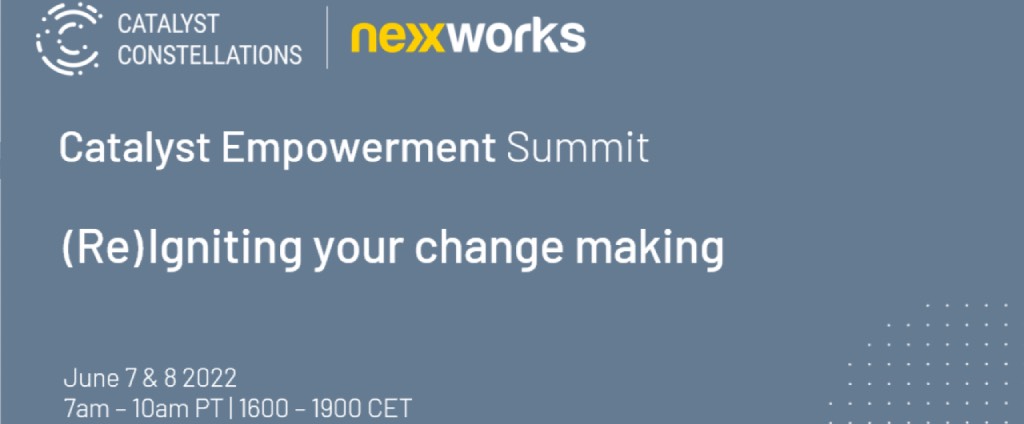 07
Jun 2022
To
08
Jun 2022
City
Event Details
Are you ready to reignite your changemaking? 
We came together at the January Catalyst Empowerment Summit (CES) to set up our changemaking success for the year.
As we begin the second half of the year, it's a great moment to come back together as a community and reconnect to what matters to us and (re)ignite our change making at the June Catalyst Empowerment Summit!
 
You asked, and we listened.
Here are some questions you shared after the January CES that we'll be addressing during the June Catalyst Empowerment Summit:
How do I know when it is time to leave my job?
How can I do work that feels more meaningful?
What does it take to disrupt in older, established organizations?
How can I hire Catalysts? How can I retain my high potentials & Catalysts?
How do I help create true equity in my organization?
How can I make a strong, fresh start in my new job?
 Check out the full agenda here.
 
Day 1 - June 7th: The Power of Purpose
Day 2 - June 8th: Catalyzing Organizational Change
The Catalyst Empowerment Summit is a FREE event, designed by and for Catalysts: short talks with actionable insights. Moderated and co-sponsored by nexxworks.
Challenge this week: Commit to your reignition by blocking your calendar and registering now!
 
Cost
Add To Your Calendar
Send Your Feedback
EgyptInnovate site is not responsible for the content of the comments

View Egypt Innovation Map