You are here
Business School: From Concept to Investment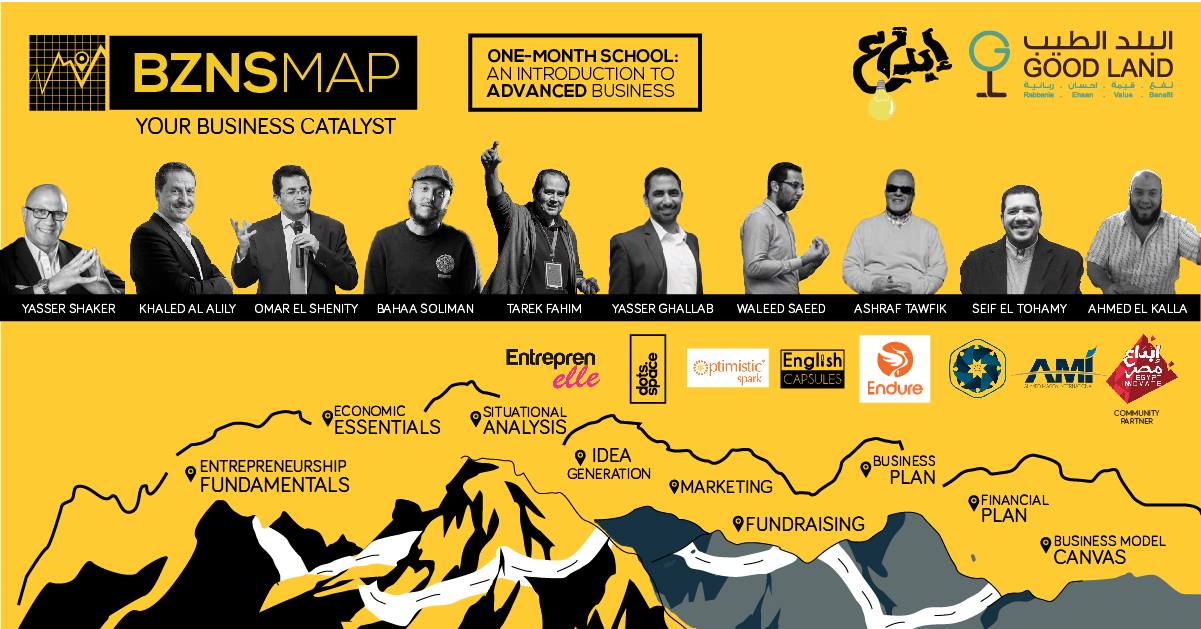 19
Oct 2017
To
25
Oct 2017
City
Event Details
This is your chance to fund your business idea (up to $250,000), learn advanced business from pioneers in the field, join the business community, and possibly travel to USA in an internship!
Ebda3 are offering an intensive one-month school to enhance the youths grows their ideas into a sustainable business. The first phase is 10 sessions to learn the essential basics to become an entrepreneur by Omar ElShenity, Khaled El Alili, Tarek Fahim, Ahmed El Kalla, Yasser Ghallab, Yasser Shaker, Ashraf Tawfik, Waleed Saeed and Bahia Soliman.
The second phase is to implement what they have learned in the sessions and create simple prototypes of their project by the mentors' help.
The third phase is to present their projects to a panel of judges in presence of investors. Winners will get their project funded, while those not chosen will receive an internship in a major multinational corporation.
Audience
BZNS MAP is for seniors in business faculties, business administration/commerce graduates, or anyone who wants to start their own business and lacks necessary knowledge or seeking fund for their idea.
Objectives
The program aims to help the participants acquire each of the following:
The ability to choose his intellectual resources and the paradigm that he works through.

The ability to organize his thoughts and ideas in a systematic way.

The tools to understand and deal with reality in an effective and productive way.

Have the ability to generate ideas that are applicable and add value to the society.

Empowered with the technical tools that allow him to achieve his goals and start his own business.
Cost
Cost:
The program costs 1500 L.E apply through the link below
Website
https://goo.gl/forms/rZNtsKPx2Np0Ah3C3
Add To Your Calendar
Send Your Feedback
EgyptInnovate site is not responsible for the content of the comments

View Egypt Innovation Map