Why did Eventtus change their Business Model?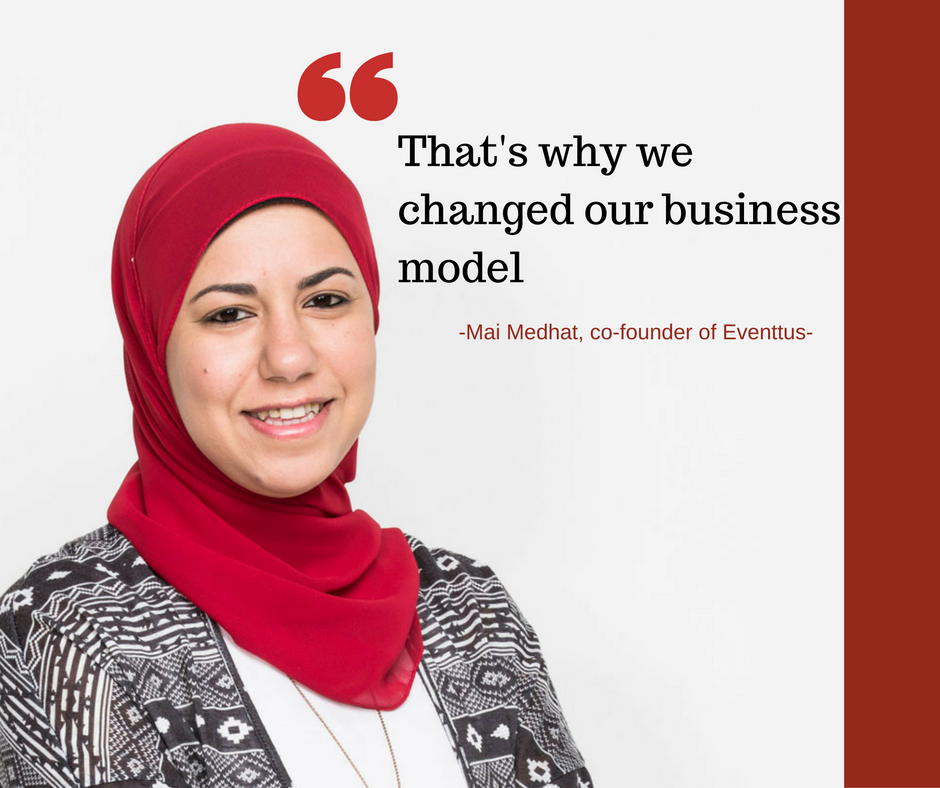 In a discussion with Mai Medhat, co-founder of Eventtus, she was asked a question about why did they change their business model from B2C to B2B?
Mai's answer was simple: because the businesses - events creators- are the ones who are paying for the service; hence, it's logical for Eventtus to keep their focus on them!
Also, Mai stated that at first, they spent a lot of time getting feedback from app users about the design and the functionality, and then they kept on enhancing and improving the app to satisfy the users' needs, which led them to create better and better versions of the Eventtus app, yet they were struggling financially.  
Eventually – according to Mai -, they recognized that the customers – events organizers – have different needs and different approach in perceiving the app as they need certain features that might not be important to the users and they also might require some customized features that serve a single specific event. For example, at RiseUp Summit 2015, the organizers were using Eventtus app for updating the attendees about weather changes, cancellation of sessions, changing in venues, and talks agenda. So, what made Eventtus this successful is that they comply with the customers' needs and they customize channels and features to serve these needs.
In her talk, Mai stressed on the point that Eventtus team is keen to keep on developing the app, Mai also said that they are always following up with Eventtus users' feedback and that they take the users' comments seriously into consideration. "That doesn't conflict with our focus, it does complete it. You just need to figure out what your focus should be on," Mai added.
Mai Medhat is a tech entrepreneur who started to dream big while in college, now she is on a mission to mobilize events through her app Eventtus; which enables organizers to consolidate efforts for planning, marketing, and ticket sales, while engaging attendees before, during, and after events.
In an unforgettable iconic scene that made all Egyptians proud, Mai joined a panel discussion moderated by Barack Obama on stage at the Global Entrepreneurship Summit. The panelists were Mai, Mark Zuckerberg, and two entrepreneurs from Tanzania and Peru. Mai proudly narrated her story and how she came up with the Eventtus idea, Obama and Zuckerberg were impressed.
Photo Credit: Think Marketing Magazine
"The idea came to my mind when I found that there was a gap between organizers of events and people attending the event. A lot of information, businesses and networking might be missed because there was no one platform that connected the two sides with each other, so I came up with the Eventtus app ideam" Mai said.
Mai is a living proof that Egypt has young and talented entrepreneurs who are keen to scratch their names in the history; Eventtus has created a platform that extends the lifetime value of both: organizers and attendees.
Here are Mai's official accounts if you wish to contact her: 
And you can also watch Mai with Barack Obama and Mark Zuckenberg here: https://www.youtube.com/watch?v=19ajQvEPBC4
Submit Your Article Now
Send Your Feedback
EgyptInnovate site is not responsible for the content of the comments

View Egypt Innovation Map