Training Kit for Innovation & Technology Management – InnovEgypt Program by IKD&RS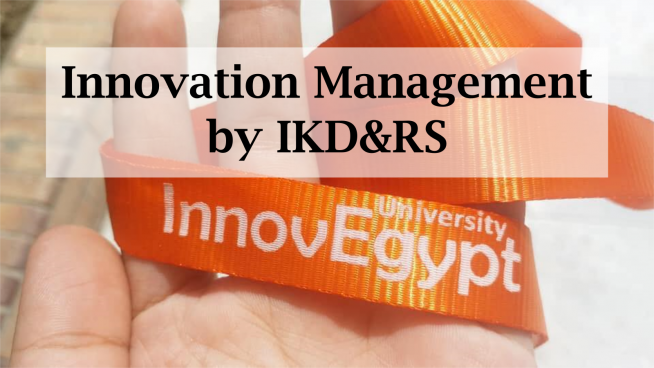 This is a 2-day interactive course in Innovation and Technology Management. The course provides the basic knowledge of the Innovation and Technology Management topics that help students understand the meaning of innovation, innovation management and technology management. This is done as a part of InnovEgypt program. As a result, participated students become familiar with basic terminology and tools that will help them to better process and understand the essential concepts of Innovation and Technology Management. The course covers the following topics and more during the 2 days:
Innovation Definitions: What are Innovation, Technological Innovation and Innovation Management? Invention and Innovation: What is the difference? What is Creativity? and What are differences Between Creativity And Innovation?

Exercise: Innovation Self-Assessment

Types and patterns of innovation with examples.

Five stages of Innovation adoption process 

Diffusion of innovations

Technology & Trends: (What is Technology? What is Trends? What is the difference between them?

Innovation Tools

S-curves.

New product introduction game: providing exercise (in teams) of designing, developing and evaluate the feasibility, demand, and market for a new product.

 Protecting innovation – How necessary is it? (IP and IP related topics: patents, trademarks, copyright, registered designs, WIPO....etc).
* The content of these materials is copyrighted to Integrated Knowledge Dynamics and The Right Solutions Co.
Download Attachment
Innovation Management by Integrated Knowledge Dynamics and right solutions_compressed.pdf
Send Your Feedback